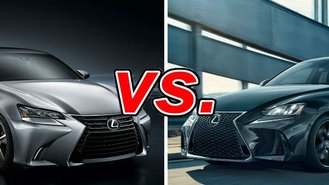 Lexus has gone through a revolution lately with restyled sedans and crossovers making their way onto showroom floors. However, two old-timers, the Lexus IS and Lexus GS, haven't been through redesigns since 2013.
Despite their age, these sedans offer a unique look and feel that their larger and more modern siblings lack. Find out whether the Lexus IS or Lexus GS is the better buy below.
See a side-by-side comparison of the IS & GS »
What the IS Gets Right
The Lexus IS kicks things off with a $39,585 starting price, which makes it $12,835 cheaper than the base GS. Despite its lower base price, the IS is very well equipped with its standard 7-inch infotainment screen, leatherette upholstery, LED headlights, automatic emergency braking, adaptive cruise control, lane keeping assist, and more.
Also, the NHTSA gave the 2020 IS a five-star overall safety rating, but the GS hasn't been through NHTSA testing, so there's some uncertainty in this area.
While its base four-cylinder engine lacks the power of the standard GS, the IS 300 delivers a slight fuel-economy advantage at an EPA-estimated 21 miles per gallon city, 30 mpg highway, and 24 combined. These numbers beat the base GS by one mpg city, two highway, and one combined.
What the GS Gets Right
The Lexus GS boasts the same basic design language as the IS, but the GS' larger body is a better canvas for this aggressive look. This larger canvas allows the GS to better combine luxury and sportiness.
The Lexus GS' body also results in a larger cabin that offers 36.8 inches of rear leg room, 55.7 inches of rear shoulder room, and 18.4 cubic feet of trunk space. These numbers beat the IS by 4.6 inches, 2.3 inches, and 7.6 cubic feet, respectively.
Performance enthusiasts will also find far more joy in the GS. The base GS 350 has a 311-horsepower, 3.5-liter V6, which bests the IS 300's 241 hp. The GS F also offers a 467-hp V8, and the IS hasn't offered a pure performance variant since Lexus discontinued the V8-powered IS F following the 2014 model year.
Craving Performance? Go with the GS
The GS can't quite hang with the IS overall, but buyers seeking performance will be attracted to this larger sedan and the GS F variant. This sedan also offers more interior space, which buyers with growing children will appreciate.
Our Verdict: Lexus IS
With its lower base price and features similar to the Lexus GS, the Lexus IS eeks out a narrow victory against its big brother in this comparison.
Take a closer look at the IS »