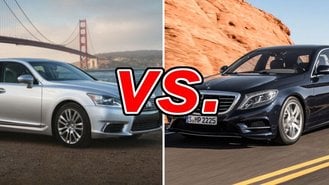 When it comes to flagship luxury sedans, there are a mere handful of contenders. The latest Mercedes-Benz S550 leads the European pack, while its sole Japanese competitor is the Lexus LS 460.
See a side-by-side comparison of the LS 460 & S550 »
Let's see how these two game-changing badges duel.
What the Lexus LS 460 Gets Right

In 2014, the big sedan received some under-skin tightening, along with added fuel economy and power. The same refresh introduced Lexus's new spindle-style grille to the LS 460's front fascia -- though the signature look has created polarized opinions.
The interior received welcome updates that replaced the center stack's waterfall of silver buttons with new swaths of metal, leather, and wood. The old-fashioned Toyota digital clock was replaced by a classier analog unit more in line with European tastes. Despite being a large car, the LS 460 still yields a hybrid-like drag coefficient of just .26, and is a segment lightweight at 4,300 pounds.
For a little extra sportiness, the LS 460 has an available F Sport Package. This model also matches the S550's plethora of optional features and available all-wheel drive.
What the Mercedes-Benz S550 Gets Right

The S550 also saw dramatic changes in 2014 that included the addition of a more efficient turbo V8 that bumped the output to 449 horsepower remained. The greenhouse evokes the coupe-like CLS with a subtle arch, while the interior takes cues from upscale marques of the past.
The luxurious appointments blend the high style of quilted leather with the modern technology of oversize touchscreens. It's more of a high-tech spa on wheels than a luxury sedan, and must almost be seen to be believed. What's more, the S550's rear seat legroom dwarfs that of the LS 460, including its long-wheelbase variant.
Does the Mercedes-Benz Still Outclass the Lexus it Inspired?
The Lexus is a good car that has gotten better with age, but the Mercedes-Benz has long been a leader and innovator in this class, and boast a model history that's more than twice as long.
Our Verdict: Mercedes-Benz S550
Even with the lofty price difference over the Lexus, the Mercedes-Benz delivers a more developed, powerful and roomy vehicle with heritage behind it.
Take a closer look at the Lexus LS 460 »