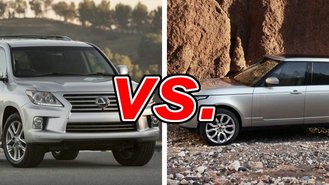 The luxury SUV segment consistently presents ever-better combinations of opulence and capability, and the Land Rover Range Rover has long led the way. This isn't to say that it hasn't come under repeated siege, and one of its most formidable opponents has been the Lexus LX570.
See a side-by-side comparison of the RX 470 & Range Rover »
Does the new fourth-generation Range Rover maintain its lead?
What We Like About the Land Rover Range Rover
Off-road skills have long been a hallmark of the Range Rover and the latest version can traverse some of the most arduous trails. Its interior is a paragon of refinement and luxury -- there's ample space for five and their luggage.
Better still is its on-road performance, improved by advanced lightweight construction that makes it more agile, faster and fuel efficient. While the standard V8 isn't short on power, an optional supercharged V8 is preposterously powerful.
What We Like About the Lexus LX570
The Lexus LX570 holds a big advantage over the Range Rover: a third-row seat that boosts passenger capacity to eight. Its interior is tremendously elegant, in the Lexus tradition, and a tremendously powerful 5.7-liter V8 moves the large vehicle with authority. What's more, it boasts a raft of off-road electronics that facilitate serious off-road capabilities.
Is Range Rover Still King of the Hill?
The Range Rover can do everything the LX570 can do -- and more. Its off-road prowess is tops. The British 4x4's interior bests the Lexus by a mile, too, with materials and craftsmanship that might even outdo Bentley.
The Lexus's third row, meanwhile, isn't suitable for adults and robs virtually all cargo space when in use. Finally, while a Lexus badge commands prestige, the Range Rover has an even better image at the valet.
Our Verdict: Land Rover Range Rover
Unless you absolutely need eight seat belts, the Range Rover trounces the Lexus in the luxury SUV field. If you're spending a lot of money for an off-roader, the Range Rover feels more special, attracts more eyes and is the most capable. The lighter, fitter new model widens its lead in the class.
Take a closer look at the Lexus LX 570 »