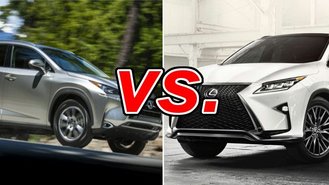 All new for 2015, the Lexus NX 200t luxury crossover quickly became a strong contender in a burgeoning compact SUV segment. Offering decent power in a relatively compact package, the crossover is fun to drive, offers a little utility and a little more fuel efficiency compared to its bigger more powerful brother, the RX 350. Is less really more or will utility take the prize, regardless of cost and fuel economy?
See a side-by-side comparison of the NX 200t and RX 350 »
What We Like About the Lexus NX 200t
The aggressively styled and nicely appointed Lexus NX 200t is a five-passenger compact crossover that makes its power with a 235-horsepower turbocharged 2-liter inline-four engine. The performance-oriented package hurries the turbo variant from 0 to 60 mph in 7.1 seconds. Gas mileage in the most efficient front-wheel drive trim equates to 22 mpg city, 28 mpg highway and 25 mpg combined.
A silky-smooth six-speed automatic transmission takes care of gear changes. The electric power steering system, independent suspension and 18-inch wheels assure that the Lexus NX200t exhibits exemplary handling characteristics around town and a relaxed ride on the highway.
What We Like About the Lexus RX 350
A longtime favorite, the Lexus RX 350 is a midsize crossover that seats five and recently underwent a redesign to make it more similar to the NX lineup. It's powered by a revised 3.5-liter V6 engine that produces 308 horsepower and launches the bigger SUV from a dead stop to 60 mph in just 7.7 seconds with its standard front-wheel-drive setup. Although driving dynamics are softer and acceleration is slower, almost every dimension of the RX 350 is bigger and offers more utility than the smaller NX.
The question really comes down to three factors, do you need the extra cargo space, will you miss the performance and how much are you willing to spend?
The Winner: Lexus RX 350
The superior utility and longer proven track record of great value and reliability make the RX 350 a relatively easy pick. You will lose performance in two key areas -- driveability and fuel efficiency -- but limited cargo space in the NX 200t places limits on its usefulness to families who like to travel and don't understand the concept of packing lightly.
That said, single drivers and couples may find the added thrills, stylish looks, and superior gas mileage of the NX 200t outweigh the added usefulness of her big brother.
Take a closer look at the Lexus NX 200t »