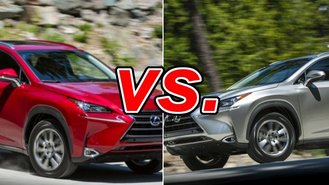 The Lexus NX is a strong contender in a burgeoning luxury compact crossover segment. And it comes in two flavors: the conventional NX 200t, powered by Lexus's first-ever turbocharged engine, and the hybrid NX 300h.
See a side-by-side comparison of the NX200t & NX300h »
What We Like About the Lexus NX 200t
The Lexus NX200t makes its power with a 235-horsepower 2-liter turbocharged inline-four engine. With this performance-oriented motor, it hurries from 0 top 60 mph in 7.1 seconds. A silky-smooth six-speed automatic transmission takes care of gear changes. The electric power steering system, independent suspension and 18-inch wheels assure that the Lexus NX200t exhibits exemplary handling characteristics around town and a relaxed ride on the highway.
Gas mileage in the most efficient front-wheel drive trim is rated at 22 mpg city, 28 mpg highway and 25 mpg combined.
What We Like About the Lexus NX 300h
The Lexus NX300h shares the same aggressive styling and luxurious interior as the NX 200h, but is powered by a larger and less powerful 2.5-liter inline-four gasoline engine that's paired with an electric motor. An electronically controlled continually variable transmission (ECVT) sends power to the wheels.
With the hybrid engine, an NX 300h loses 41 horsepower to the NX 200t, and takes almost 2 seconds longer to reach 60 mph, but it gains fuel economy in the process. Rated at 35 mpg city, 31 mpg highway and 33 mpg combined, the NX 300h prides itself in a different kind of performance, an instance when less is more.
Our Verdict: the Lexus NX200t
I have spent a good amount of time behind the wheel of both the NX200t and the NX300h and have found that both vehicles possess appealing qualities. The entire NX lineup exemplifies the high level of fit and finish that Lexus is known for. Interestingly, both vehicles reward the driver, but in different ways: the turbo with spirited performance and the hybrid with fuel-sipping economy.
As an enthusiast I find the turbocharged NX 200t to fit my personal preferences a little better. That said, I have had both vehicles for a week-long loan period. During that time I burned through an entire tank of gas in the NX 200t, but I was able to return the NX 300h with plenty of fuel still left in the tank. I guess it comes down to preferences and priorities. The truth is, if the NX styling moves you, you really can't go wrong either way.
Take a closer look at the Lexus NX200t »