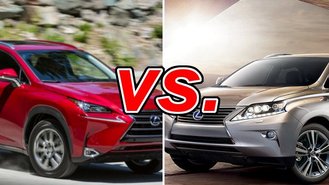 In a battle of Lexus's hybrid crossovers, the NX 300h enters the ring against its older, bigger, and more powerful brother: the RX 450h. In other words, it's one gas-electric Lexus against another.
The NX 300h is a small, sporty and stylish. The RX 450h is bigger, more powerful, and offers better performance -- but also adds $8000 to the price tag of the NX 300h.
See a side-by-side comparison of the NX300h & RX450h »
What We Like About the Lexus NX 300h
The Lexus NX 300h boasts aggressive styling and an upscale, luxurious interior. Powered by a 2.5-liter inline-four hybrid motor, it sends power to the wheels through an electronically controlled continually variable transmission (ECVT). The powertrain is efficient but acceleration is weak -- the weight of the crossover almost seems like too much for the engine. Acceleration aside, handling is superb and the NX300h is quite fun to drive around town.
Rated at 35 mpg city and 31 mpg highway, the NX300h is quite the fuel-miser.
What We Like About the Lexus RX 450h
The Lexus RX 450h takes the basic NX formula to the next level in almost every area. With similar looks, especially in its recent redesign, you can certainly tell they are related. The RX is bigger inside and out, gaining close to thirty cubic feet of passenger and cargo volume. The 3.5-liter V6 hybrid engine creates 295 horsepower, almost 100 more than the NX, and sends the bigger SUV to sixty miles per hour in 7.8 seconds compared to the NX 300h's 9.1 seconds.
Gas mileage is great considering the size and performance of the RX 450h: 32 mpg city and 28 mpg highway.
Our Verdict: the Lexus RX 450h
While the NX 300h wins the pricing battle, the RX 450h handily defeats his little brother in every other category. The $8000 up-charge seems well worth the cash when you consider the extra passenger space and overall utility, never mind the increase in performance. While I am a fan of the NX 300h and believe it to be a great crossover for smaller families who do a majority of city driving, I would prefer the RX 450h in my driveway -- and even more on the open road.
Take a closer look at the Lexus NX300h »