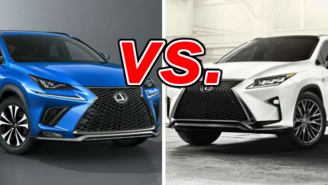 Lexus has a nice selection of crossovers and SUVs to pick from, including a perennial best-seller in the RX. When looking at buying the RX, one may wonder if opting for the cheaper and smaller NX may be a better bet. We dug deep into the Lexus RX and NX lineups to see which one is the better crossover. Keep reading to see which one we picked.
See a side-by-side comparison of the NX & RX »
What the Lexus NX Gets Right
The 2019 NX 300 starts at $37,380 (all prices include the $995 destination fee), giving it a $7,215 pricing advantage over the 2019 RX 350. Buyers opting for the NX can tick a lot of option boxes and dress it up with that extra cash. Also, with a body that's 10.2 inches shorter and one inch narrower, the NX is easier to park in tight garages or zip through city traffic with.
The latest Lexus design is – how do we say it? – "dramatic," and blowing that up to fit a crossover the size of the RX may be a little much to some. This sporty, angular design is much better suited on a compact body like the NX.
Like its big brother, the Lexus NX has a full suite of standard active safety gadgets, including automatic emergency braking, lane departure warning, adaptive cruise control, and automatic high-beam headlights. This adds even more value to the Lexus NX's bottom line. Plus, its five-star NHTSA safety rating bests the RX's rating by a star.
What the Lexus RX Gets Right
Being the larger of the two crossovers, there are just some things the RX does better than the NX. The first advantage is the RX 350's beautiful 3.5-liter V6 engine that cranks out a smooth 295 horsepower. Second, the RX's larger platform does a better job of gliding over potholes and other road imperfections like they're nothing.
If its ride quality isn't enough for you, the Lexus RX's seats are nearly unmatched in the luxury-crossover space. A ton of engineering and science went into making sure you derriere and lumbar were in good shape, even after a 500-mile journey. The seating isn't just comfortable, it's roomy, too, with up to 38 inches of rear leg room and 44.1 inches of front leg room.
Not that towing will be a regular occurrence in a luxury crossover, but the Lexus RX's 3,500-pound towing capacity bests the NX by 1,500 pounds, and its V6 engine does a better job getting the load moving from a dead stop.
Save Big Bucks With the Lexus NX
The Lexus NX may not stack up to its big brother in a head-to-head battle, but it offers a ton of value for buyers who only care about features and saving cash.
Verdict: Lexus RX
The Lexus RX sits atop the mid-size luxury crossover sales charts years in and year out for good reason. It offers a lot of value, ample performance, unmatched comfort, and loads of features. All this puts it at a level the NX can't quite reach.
Take a closer look at the Lexus NX »