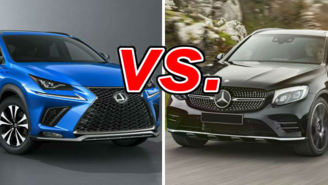 The compact-luxury-crossover class is booming as luxury-car buyers often opt for these do-it-all vehicles over sedans and vans. The Lexus NX and Mercedes-Benz GLC-Class are near the top in sales, and both have tons to offer buyers. Which one comes out on top in a head-to-head battle? Keep reading to find out.
See a side-by-side comparison of the NX & GLC-Class »
What the NX Gets Right
With a $37,380 starting price (all prices include destination charges), the 2019 Lexus NX 300 is $4,315 cheaper than the 2019 Mercedes-Benz GLC 300. This allows buyers to add a lot of options to dress up the NX before hitting the GLC-Class' base price. Alternatively, thrifty buyers can just pocket the difference. The Lexus NX also delivers a striking appearance that commands attention. Inside, this Lexus boasts one of the best cabins in the compact crossover segment thanks to its reserved dashboard, upscale materials, and eye-pleasing trim options.
Despite its low price point, the Lexus NX doesn't punish buyers with limited standard features. It comes with tons of premium goodies without spending an extra penny, including 17-inch wheels, an eight-inch infotainment screen, dual-zone climate control, automatic headlights, and more. And for buyers who have deeper pockets, the NX has a long list of optional equipment to dress it up even further.
What the GLC-Class Gets Right
The Mercedes-Benz GLC-Class gets a leg up on the NX with its outward appearance. Sure, it's not as striking as the NX, but its toned-down attitude will appeal to many more buyers. Plus, buyers have options to further dress up this look, including a coupe body that adds a little dose of sportiness.
A win in the performance column belongs to the GLC-Class. It's not that the GLC 300's standard 241-horsepower, 2.0-liter engine has gobs more power than the base NX 300. Instead, it's that the GLC-Class has a slew of optional engines that transform it from a mild-tempered luxury rig to a punish-the-asphalt performance crossover. These optional powerplants include a 362-hp V6, a 469-hp V8, and a 503-hp V8.
Beyond raw performance, the GLC-Class delivers a comfortable and refined ride the NX cannot compete with. Plus, with more rear leg room and cargo room, everyone and everything has plenty of space in the GLC-Class.
Love Features and Value? Go With the NX
The Lexus NX can't quite hang with the GLC-Class lineup, but it suits buyers who only care about features and value well. This is all thanks to its lower base price that allows it to remain a better value than the GLC-Class when checking those option boxes.
Verdict: Mercedes-Benz GLC-Class
Mercedes-Benz has the luxury-crossover game on lock, and the GLC-Class is no exception. It's luxurious, fast, comfortable, roomy, and so much more. There isn't much the Lexus NX can do to keep up.
Take a closer look at the Lexus NX »