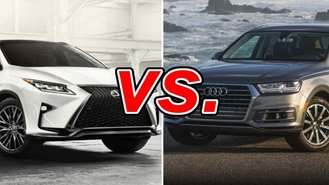 The land of luxury crossover SUVs gets larger each and every year, and two heavy hitters in this market are the Lexus RX 350 and the Audi Q7.
See a side-by-side comparison of the RX 350 & Q7 »
The Lexus RX is a pioneer that debuted in 1999 with the release of the RX 300; the Audi Q7, by contrast, is a relative newcomer to the segment with a career that began in 2007. Both have been treated to recent redesigns -- which is the more successful?

What the RX 350 Gets Right

For 2016, the Lexus RX is all-new, as it gains a more aggressive styling that we first saw with the new NX lineup. This redesign makes the RX 350 larger than before, but its interior room pales in comparison to the Audi. Where the RX 350 does shine is in its comparatively low base price, available F Sport Package, and slew of standard features for the money.
The RX 350's cabin is well-appointed even at the base level. Under the hood, it features a Toyota-built 3.5-liter V6 that produces 295 horsepower and 267 pound-feet of torque. While this engine may lack power, it compensates with a respectable 28 mpg on the highway -- relatively high for the segment.

What the Q7 Gets Right

The Q7 gets completely redone for 2017, as its body gets the new look that has been spreading across the Audi lineup. The Q7 also shrinks just a tad for the new model year but it is still more than 10 inches longer than the RX 350, which results in room for seven passengers and a ton of extra cargo room.
The Q7 also excels under the hood, as the new model year brings in a simpler powertrain offering that Audi has whittled down to just a single engine. This motivating unit happens to produce a stout 333 horsepower and 325 pound-feet of torque, easily bettering the Lexus. This also results in a 2-second-quicker 0-to-60 time and a towing capacity that is more than double the RX 350's max hauling capacity.

Has the Q7 Supplanted the RX 350?

The Audi Q7 is getting better at every turn, as it is now lighter, quicker, and more capable than ever. However, its underlying issue when cross-shopping it against the RX 350 is its price. Can it overcome this massive gap this time around?

Verdict: Lexus RX 350

The final factor is the fact that the Lexus is far more affordable at the base level, while offering optional features that make it just as luxurious as the base Q7. If you need the trailer capacity and the extra two seats, the Q7 remains a great option, but the RX 350 still ticks most of the crossover boxes.
Take a closer look at the Lexus RX 350 »