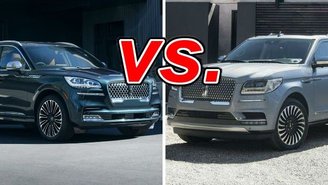 The all-new Lincoln Aviator leads the luxury crossover class in power and capability, making it a worthy junior sibling to the full-size Lincoln Navigator SUV. Buyers who don't need a cavernous interior will likely gravitate toward the Aviator, while those who can't get enough of a good thing will insist on the Navigator. All things considered, which would we choose to drive every day?
See a side-by-side comparison of the Aviator & Navigator »
What the Aviator Gets Right
The Aviator departs from Lincoln's existing crossovers with its rear-wheel-drive architecture, plush-tough design theme, and three-row interior. While technically in the mid-size class, the Aviator can seat seven in utter luxury and offers 77.7 cubic feet of cargo space with the rows folded.
The standard 3.0-liter twin-turbocharged V6 engine makes a mighty 400 horsepower and 400 pound-feet of torque. A 10-speed automatic transmission does the shifting, and all-wheel drive is optional. The Aviator is rated to tow up to 6,700 pounds with this setup.
All-wheel drive comes standard on the plug-in hybrid version, which carries a pair of electric motors that boost output to 450 hp and 600 lb-ft of torque. Never before has this much power lived under a Lincoln hood. The plug-in can pull 5,600 pounds.
What the Navigator Gets Right
The Lincoln Navigator is a traditional, truck-based SUV of intimidating size. There's abundant room for up to eight people, or 103.3 cubic feet of cargo with the rows folded. The extended-length L model can sallow 120.2 cubes, matching the largest SUVs on the market. Towing capacity reaches 8,700 pounds – only a full-size pickup can handle more. A stabilization system keeps the towering body in check when the wind blows.
Every Navigator gets a 3.5-liter twin-turbo V6 with 350 hp and 510 lb-ft of torque. Like the Aviator, the Navigator uses a 10-speed automatic transmission and comes in rear- or four-wheel-drive configurations.
Efficiency is admirable for a vehicle of this capability. The Navigator is EPA-rated at 16 miles per gallon city, 23 mpg highway, and 19 combined with rear-wheel drive, or 16/21/18 mpg (city/highway/combined) with all-wheel drive.
Is Bigger Always Better?
The Lincoln Aviator comes across as a formidable luxury ride – unless there's a Lincoln Navigator parked next to it. When it comes to presence and prestige, there's no substitute for a fully adorned large SUV.
While the Aviator doesn't measure up to the Navigator, it comes darn close in many respects. And that should be enough to satisfy most buyers, especially with the Aviator's hefty price advantage.
Our Verdict: Lincoln Aviator
The Lincoln Aviator pleases the senses without the risk of an overdose.
Take a closer look at the Lincoln Aviator »