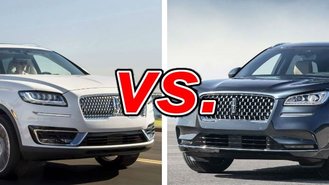 Lincoln has been on a roll recently, helping to put American luxury back on the map as they redesign their SUV lineup. Two of the latest entrants are the nautical-themed Lincoln Corsair and Lincoln Nautilus, which replace the MKC and MKX, respectively.
Both the Corsair and Nautilus are pleasant to look at, but which would we rather own? Here's a look at the details.
See a side-by-side comparison of the Corsair & Nautilus»
What the Corsair Gets Right
The Corsair is the smaller and therefore cheaper of the two. The Corsair is $5,740 less expensive than the Nautilus to start.
Despite the cheaper price, the Corsair starts with the same engine as a base Nautilus. A 2.0-liter turbocharged four-cylinder engine making 250 horsepower is the default on both vehicles. The Corsair asks the engine to move less weight, and as a result, it's the nimbler car (relatively speaking).
As you'd expect, lower weight also means better fuel efficiency. The Corsair is EPA rated at 22 miles per gallon city, 29 mpg highway, and 25 combined with the base engine. The Nautilus only achieves 21/26/23 mpg (city/highway/combined).
Buyers also get much of the same luxury for the Corsair's price. The interior is cleverly packaged to maximize, and the materials are top-notch.
What the Nautilus Gets Right
The Nautilus is the pricier vehicle, but it rewards buyers with extra size. The Nautilus spoils with plenty of leg room and head room, along with plentiful interior storage.
Behind the seats, the Nautilus can hold 37.2 cubic feet of cargo. That's substantially better than the Corsair, which manages a more hatchback-like 27.6 cubic feet.
Although the Nautilus starts with the same engine as the Corsair, a 335-hp twin-turbo V6 is on the options list. We prefer this engine, as it gives the Nautilus grunt (and a 3,500-pound towing capacity) that the Corsair can't match.
The Corsair is impressively luxurious in base trims, but it grows expensive quickly. The midrange Nautilus Reserve trim isn't much more expensive than upper-trim Corsairs, and it offers more of a true luxury SUV experience.
Value or Volume?
Compact crossovers are gaining popularity, and as the newer vehicle, the Corsair enjoys some advantages over its larger sibling. For the price, its interior and efficiency are major perks. The Nautilus bets on size, and it follows through where it counts. Especially for family buyers, the extra utility in space and power will pay off.
Our Verdict: Lincoln Corsair
This contest is a close one, and buyers who want extra space will enjoy the Lincoln Nautilus (or, even more, the Aviator). But the Lincoln Corsair's value is hard to deny, especially with such an impressive interior. We'd stick close to the base trim for best results, but luxury crossover buyers may be rewarded for looking outside the usual German suspects.
Take a closer look at the Corsair »