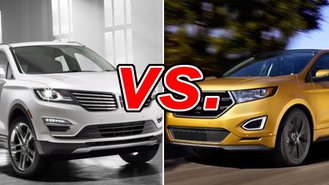 Two five-passenger SUVs from the same parent company don the gloves and enter the ring. Will the upscale Lincoln MKC take the belt or will the bigger, less expensive Ford Edge steal the thunder? In other words, is bigger better or do we have a case of less is more?
See a side-by-side comparison of the MKC and Edge »
Going Head-to-Head
Both vehicles seat five and employ the same base 2-liter Ecoboost four-cylinder engine and six-speed automatic transmission. When comparably equipped, both provide approximately the same gas mileage: The MKC earns 20 mpg city and 29 mpg highway to the Edge's 20 mpg city and 30 mpg highway.
They're also priced within the same ballpark when they have similar features. Lincoln is Ford's luxury brand, but a nicely equipped Edge stacks up pretty well against the premium MKC.
What We Like About the Lincoln MKC
The upscale 2016 Lincoln MKC represents good value, especially in the lower trim levels. Available in front or all-wheel drive configurations and with a variety of Ford's efficient turbocharged engines, Lincoln's MKC offers good handling and excellent gas mileage numbers. The interior fit and finish are excellent, and the abundant use of soft touch surfaces and high-quality accents provide a feeling of luxury that the Edge is not going to have.
What We Like About the Ford Edge
Ford's Edge is a bigger SUV for less money. Sure, they both seat five, but the Edge offers 16 more cubic feet of passenger volume. That added volume equates to more room in almost every area. While the base Edge is going to look sparse in comparison to Lincoln's base model MKC, buyers can ascend to higher trim levels and add option packages that just about level the playing field. You may not have the Lincoln badges on the skin of the SUV, but the bones are essentially the same.
Our Verdict: Ford Edge
While we're comparing apples to oranges in many ways, it is hard not to see the value of skipping the luxury nameplate and sticking with the Ford brand. Although the Lincoln wins the fashion runway, the Edge shares the same heart as the MKC and offers more utility for less.
Take a closer look at the Lincoln MKC »