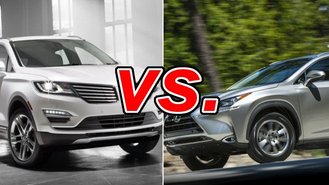 A pair of compact crossovers have entered the ring in a battle of luxury-brand baby SUVs. They're competing in a red-hot market that seems to grow on a daily basis. The Lexus NX200t and the Lincoln MKC both seat five, are powered by small turbocharged engines, offer excellent performance and gas mileage, and are priced similarly from the mid $30,000s.
See a side-by-side comparison of the MKC & NX200t »
What We Like About the Lincoln MKC
The upscale Lincoln MKC represents good value, especially in lower trim levels. Available in front- or all-wheel drive configurations and with a variety of Ford's efficient turbocharged engines, Lincoln's MKC offers good handling and excellent gas mileage numbers. The interior fit and finish are excellent, and the abundant use of soft touch surfaces and high-quality accents provide a feeling of luxury.
What We Like About the Lexus NX200t
The all-new for 2015 Lexus NX200t crossover is a strong contender in the burgeoning compact SUV segment. Boasting Lexus's first-ever turbocharged engine, the NX200t offers excellent performance and nimble handling. The electric power steering system, independent suspension and 18-inch wheels assure that the Lexus NX200t exhibits exemplary handling characteristics around town and a relaxed ride on the highway.
Our Verdict: Lexus NX200t
While both the MKC and the NX200t have their strong points, the Lexus offers a decidedly more upscale feel. On paper, the two are so close -- horsepower ratings are almost identical, for example -- that it comes down to the details and personal preference. The Lexus fit and finish is among the best in the business and unlike the MKC's closely related Escape, the NX200t doesn't share an almost identical design with a far less expensive Toyota.
The MKC does, though, have the NX200t handily beat in the area of cargo space when all the seats are in use. However, the Lexus beats the MKC when the second row is folded down.
Take a closer look at the Lincoln MKC »