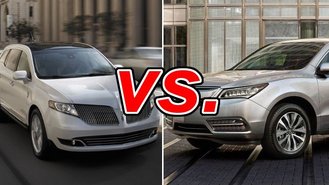 The crossover market has become so saturated that there's something for almost every buyer. The Acura MDX offers a tried-and-true formula that has made it one of the most popular luxury crossovers ever. Lincoln's unorthodox MKT is powerful and luxurious, but sells nowhere near as well as the Acura. Is the Lincoln really inferior or does it deserve more attention from buyers?
See a side-by-side comparison of the MKT & MDX »
What the MKT Gets Right
The MKT looks long and sleek on the outside, more like a luxury wagon than an SUV. If America still made a fancy full-size wagon, this would be it. The standard front-wheel drive powertrain features a 303-horsepower V6 and six-speed automatic transmission. The available Ecoboost V6 lays down 365 horsepower and comes exclusively with all-wheel drive. It's only slightly less efficient than the standard engine.
Inside, the MKT can accommodate six or seven passengers in total luxury. Ride quality is excellent, and road noise is practically nonexistent. With the back rows folded, the MKT can handle up to 76 cubic feet of cargo.
What the Acura MDX Gets Right
The MDX comes standard with a 290-horsepower 3.5-liter V6 engine, paired with a nine-speed automatic transmission. The base price also includes features like leather seating, driver memory, a sunroof, and a power tailgate. Needless to say, the MDX is equipped like a proper luxury vehicle from the start.
The MDX ranks as midsize and offers three rows of seating, but less interior room overall than the largest crossovers. That said, cargo space is undeniably generous at 91 cubic feet with the rear seats folded. The standard power-sliding second row is a welcome touch that allows third-row passengers to get in and out with dignity.
Is the MKT Really That Far Behind?
Not really, it just doesn't appeal to the mainstream like the near-flawless MDX does. Acura figured out long ago how to serve the luxury crossover buyer, and the MDX just keeps getting better at it.
Our Verdict: Acura MDX
The MKT is eye-catching and likable, but it can't beat the chef at his own recipe.
Take a closer look at the Lincoln MKT »