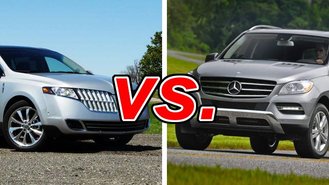 The Lincoln MKT and Mercedes ML350 offer a similar amount of power for a price that isn't dramatically different -- but don't let those facts fool you. These are two different breeds of luxury CUV.
See a side-by-side comparison of the MKT & ML350 >>
What the Lincoln MKT Gets Right
Unlike the ML350, an MKT comes with standard seven-passenger seating. A 3.7-liter V6 delivers solid performance with 303 horsepower and 278 pound-feet of torque, a bit more than the Mercedes-Benz. Even with more power and fewer gears in its six-speed automatic, Lincoln's big CUV still gets around 25 mpg highway in front-wheel drive form.
The MKT's looks are controversial, however. Where some see stylistic references to the Zephyrs and Continentals of the past, others see a vehicle that looks a bit like a hearse. The interior is also starting to show its age when compared to the ML350.
What the Mercedes-Benz ML350 Gets Right

The Mercedes ML350 may only seat five, but it's also not the largest of the brand's SUV fleet. Though it isn't more powerful than the MKT, an ML350 can still tow 6,600 pounds -- more than three times the MKT's 2,000-pound limit. There's even a transfer case and skid plates for those who plan to leave the pavement.
Cargo capacity in the M-Class is also substantial -- 38 cubic feet with rear seats up, and 80 cubit feet when they're folded. There are a few areas where the ML350 comes short, though, like the lack of standard features like leather upholstery or a driver's seat with memory.
Which is the Better Luxury CUV?
The Lincoln includes more standard equipment at a lower price. But the Mercedes-Benz offers a better mix of performance and utility. In an all-around sense, the ML350 is the stronger choice.
Our Verdict: Mercedes-Benz ML350
With its towing capability, off-road ability, cargo space and refined engineering, the ML350 is a clear win.
Take a closer look at the Lincoln MKT >>