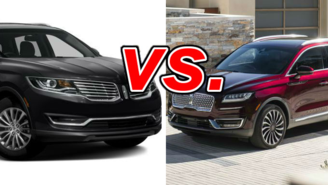 Despite the wildly different names, the Lincoln MKX and the Lincoln Nautilus are in fact two versions of the same vehicle. The Nautilus replaces the MKX, dropping Lincoln's longstanding "MK_" nomenclature in favor of a more traditional model name. But despite sharing a platform, significant differences separate the two vehicles. Read on to find out which we prefer.
See a side-by-side comparison of the MKX & Nautilus »
What the MKX Gets Right
As last year's model, the Lincoln MKX can be had for a bit of a discount. A base 2018 MKX skates under the line at $39,960 after destination fees. That's a $1,375 discount over the base 2019 Nautilus.
In most areas, the MKX matches the Nautilus for less money. The infotainment system is the same (albeit using a smaller screen on the MKX), the two are the same size, and the interior is just as comfortable. While it's still available, the MKX may offer a touch more value.
While the two share an optional engine, the MKX's base engine is the more powerful of the two. The 3.7-liter V6 pumps out 303 horsepower and 278 pound-feet of torque, which significantly outclasses the base Nautilus' 245 horsepower.
What the Nautilus Gets Right
The Nautilus sees a significant exterior redesign, which (in our eyes) is a good thing. It ditches the twin-baleen grille in favor a more traditional mesh, and the headlights and profile are a touch sharper. A new model year brings new technology as well. In addition to a larger infotainment screen, the Nautilus gets extra active safety technologies like evasive steering assist.
While the Nautilus' base engine can't match the MKX's power, it wins out on fuel economy. The 2.0-liter turbocharged four-cylinder unit gets an EPA-estimated 21 miles per gallon city, 26 mpg highway, and 23 combined, which easily bests the MKX's top marks of 18/25/20 mpg (city/highway/combined).
Is Newer Always Better?
Although the MKX may offer similar luxury, the Nautilus is the more modern of the two. The design on the Nautilus is more in line with what we'd expect from a luxury brand like Lincoln. While the base engine may lose some performance, we'd rather have a fuel-efficient option – performance-minded buyers can always select the optional engine.
Our Verdict: Lincoln Nautilus
The Lincoln Nautilus it is. The price difference between the two is small enough that we think the newer car's upgrades are worth the cost.
Take a closer look at the Lincoln MKX »