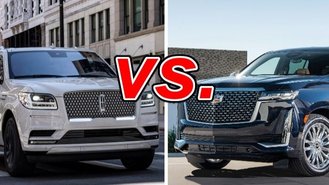 Once warmed-over copies of their more mainstream platform-mates, the redesigned 2021 Cadillac Escalade and Lincoln Navigator show far more separation from their GM and Ford relatives.
This detachment instantly thrust them into legit competition with BMW and Mercedes-Benz models, but how do these American luxury SUVs stand up against each other? Continue reading to see if the redesigned Escalade has what it takes to unseat the stunning Navigator.
See a side-by-side comparison of the Lincoln Navigator & the Cadillac Escalade »
What the Navigator Gets Right
The Lincoln Navigator's 3.5-liter turbocharged V6 delivers 450 horsepower and 510 pound-feet of torque, which plays a role in its 8,700-pound towing capacity – a 500-pound advantage over the Escalade. The Navigator also shows off some off-road prowess with its rock-crawling selectable driving mode.
While the Escalade's design is new and more refined and its cabin is full of wild tech, including 38 combined inches of curved OLED screens, the Navigator looks and feels more like a luxury SUV. It boasts a sleek exterior design and a wood-trimmed cabin with loads of premium upholstery and super comfortable seats. The Navigator is a delicate blend of retro luxury and modern amenities.
The Navigator and Escalade are close in safety gear, as each comes standard with automatic emergency braking with pedestrian detection, front and rear parking sensors, and lane keeping assist. The Navigator gets an edge with its standard adaptive cruise control and blind-spot monitoring, which are options in the Escalade.
The Navigator also boasts a more passenger-friendly cabin with its standard-length model offering 42.6 inches of second-row leg room and 40.9 inches of third-row leg room. These beat the standard Escalade by 0.9 and 6 inches, respectively. The extended Escalade ESV brings the third-row difference down to 4.3 inches, but it's still way behind the Navigator.
What the Escalade Gets Right
The Cadillac Escalade is all new for the 2021 model year, boasting a more traditional look after spending a handful of years with an angular, futuristic design. This new model brings the Escalade back to Earth, giving it a better chance against its more refined and traditionally designed competitors, like the Navigator.
The Escalade also has a more traditional standard powertrain in the form of a 420-hp 6.2-liter V8 that delivers smooth power and acceleration across the powerband. The Navigator's turbo engine is punchier at the bottom end of the range and loses steam through the powerband. The Escalade's V8 delivers about a six-second 0-60 mph sprint, while the Navigator comes in just under seven seconds.
The Escalade also features an optional 3.0-liter turbodiesel inline-six engine that delivers 277 hp and a stump-ripping 460 lb-ft of torque. The diesel-equipped Escalade may lack the straight-line speed of those with the 6.2-liter, but its shining stat is its fuel economy. According to EPA estimates, the Escalade diesel gets 21 miles per gallon city, 27 mpg highway, and 23 combined, beating the Navigator and its 16/22/19 mpg (city/highway/combined) ratings.
Cargo room is also in the Escalade's favor. Its standard-length model offers 25.5 to 121 cubic feet of cargo space, which beats the Navigator's 20.9 to 103.4. In its longer ESV variant, the Escalade continues its cargo room dominance with up to 142.8 cubic feet of cargo space to the Navigator L's 120.3 cubes.
Finally the Escalade comes standard with a surround-view camera to the Navigator's standard rear-view camera, making it easier to park this beast.
Need Space or Thrift? Go Caddy
The Cadillac Escalade keeps it very close with the Lincoln Navigator, but it loses in a few key areas. Buyers seeking a less fuel-hungry SUV will appreciate the Escalade's diesel engine. Also, shoppers looking to maximize cargo space will find the Escalade is far better suited for this.
Our Verdict: Lincoln Navigator
The Lincoln Navigator gets a good run from the Cadillac Escalade, but it ultimately comes out on top with its three adult-friendly rows of seats, massive towing capacity, and more traditional luxury SUV looks.
Take a closer look at the Lincoln Navigator »