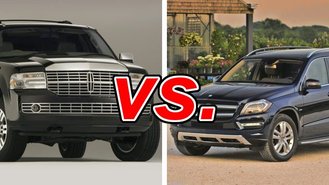 Although rising gas prices have hurt the full-size SUV market, affluent buyers still want luxurious family haulers. Among their choices is the Lincoln Navigator and the Mercedes-Benz GL450, each of which interprets "luxury" in a very different way.
See a side-by-side comparison of the Navigator & GL450 >>
Does the aging Navigator have what it takes to keep up with the newer GL450?
What the Mercedes-Benz GL450 Gets Right
Mercedes-Benz is known for great engines, and the GL450 lives up to high expectations with a 4.6-liter twin-turbo V8. A seven-speed automatic transmission sends 362 horsepower to all four wheels with the 4MATIC system. Fuel economy, which stands at 14 mpg city and 19 mpg highway, won't win any prizes for efficiency. Braking power is reasonable good, as is handling aided by a capable traction control system.
Exterior styling is sleek and stylish from every angle. The interior luxurious, with soft leather seats for seven people, beautiful wood trim and a clean dashboard design.
What the Lincoln Navigator Gets Right
The Navigator comes in a bit cheaper than its German counterpart. Ford's familiar 5.4-liter V8 pumps out 310 horsepower, and is mated to a six-speed automatic transmission. Rear-wheel drive is standard; four-wheel drive is optional.
The Lincoln can tow up to 9,000 pounds -- 1,500 more than the Mercedes-Benz. The imposing exterior drips with chrome, giving it an old-fashioned sort of class. The interior is stylish, with seating for up to eight people and a fantastic dashboard design.
Does the Navigator's Style Keep Up?
In short, not really. While the interior is lovely to look at and sit in, the exterior is dated and long overdue for a redesign that's on its way.
Our Verdict: Mercedes-Benz GL450
The GL450 wins by a considerable margin over the outdated Navigator. The price may be higher but you're getting a good deal more for your money. If you have your heart set on a Navigator, wait for the redesigned model.
Take a closer look at the Lincoln Navigator >>