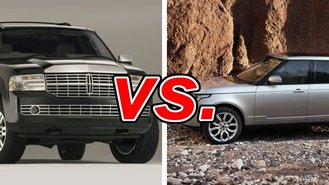 Americans still have an appetite for traditional SUVs, even if it's concentrated at the top end of the market. Most of the remaining examples offer the full luxury treatment in addition to their truck-like capability.
See a side-by-side comparison of the Navigator & Range Rover »
The Lincoln Navigator is still with us, boasting head-turning stature, a mile-long list of standard conveniences and an efficient new V6 engine. Over at Land Rover, the venerable Range Rover, still fresh from a 2013 redesign, continues to bask in its reputation as the original prestige SUV. Both models display undeniable muscle and luxury, but which impresses us more?
Lincoln Luxury
The sheer size of the Navigator is made all the more apparent by acres of chrome ornamentation and blinding new split-wing grille. It's more of the same inside with huge swaths of real wood and lounge-like leather seating for up to eight. You get an incredible amount of standard equipment, including 14-speaker surround sound, ventilated front seats, a power-folding third-row seat, and power-retractable running boards. Cargo space comes in at a full-size 104 cubic feet.
The independent rear suspension makes for relatively easy handling, and the ride is as smooth and hushed as you would expect in this league. Powered by an all-new 380-horsepower turbocharged V6, the Navigator offers a laudable blend of power and efficiency, and can still tow up to 9,000 pounds, about as good as it gets for any SUV.
Range Rover Ability
The Range Rover wears a lightweight all-aluminum body for optimal efficiency and performance. The five-person interior remains fully up to date without spoiling the classic British ambiance of fine wood and leather.
The 375-horsepower 5-liter V8 is paired with a eight-speed transmission, a setup that takes the Range Rover to 60 mph in 6.5 seconds and returns 20 mpg on the highway. All models feature full-time four-wheel drive with low range and Land Rover's Terrain Response system, which optimizes the SUV's traction for five driver-selected conditions. The Range Rover can pull up to 7,700 pounds and handle 72 cubic feet of cargo.
The Best of Both
It's clear that the Navigator offers a lot of luxury for the money. No one could quibble with that. What the Range Rover has going for it -- old English craftsmanship combined with go-anywhere capability -- is best described as a rare treat.
Our Verdict: Range Rover
Although smaller inside, the Range Rover's superb quality and off-road prowess make it a top choice.
Take a closer look at the Lincoln Navigator »