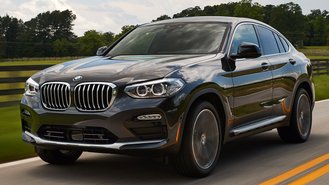 The all-new Infiniti QX55 is the brand's latest attempt to win over crossover buyers. Based on the QX50, the QX55 shaves down the roofline and enters the ring with trendy crossover coupes like the BMW X4.
Both models start around $50,000 and blend practicality and style. Which is the better buy? Here's our comparison of key specs and features buyers should know about when choosing between these two luxury SUVs.
See a side-by-side comparison of the BMW X4 & the Infiniti QX55 »
What the X4 Gets Right
BMW markets itself on driving pleasure, and the X4 comes out on top in that arena. The X4's suspension is stiffer than the related X3, which provides sharp handling on curvy backroads. The X4 is also blessed with a clever eight-speed automatic transmission, while the QX55 is stuck with a CVT.
For an extra power boost, the X4 comes in M40i trim with a 382-horsepower turbo engine. It's a formidable performer, and the QX55 has no equivalent.
On the inside, the X4's interior shows typical BMW polish. Fit and finish are exceptional, and every X4 gets a generous 10.3-inch touchscreen for infotainment. The QX55's dual-screen setup is less intuitive.
What the QX55 Gets Right
The QX55's main advantage is its price. In base form, the QX55 costs about $5,000 less than the cheapest X4. For the price, it comes with a competitive set of features.
The QX55 starts with a power advantage as well. A turbocharged 2.0-liter four-cylinder engine makes 268 horsepower, 20 more than a base X4.
Finally, the QX55 has a leg up in practicality. While neither can carry as much as their traditionally shaped siblings, the QX55 has around eight extra cubic feet behind the seats. The QX55's sliding rear seat also helps rear passengers to 38.7 inches of legroom, comfortably more than the X4.
Value or Verve
As a value proposition, the QX55 starts with the right ingredients. It has the features and the styling to compete with the X4, and it offers more space for thousands less.
As a sporty SUV, however, the X4 is more effective. It's a much sharper performer, with more polish in the details of trim and tech.
Our Verdict: BMW X4
The QX55 has its virtues, with its price chief among them. But crossover-coupes are more about personality than practicality, and the BMW X4 is more pleasant overall. In this case, it's worth paying the premium.
Take a closer look at the BMW X4 »