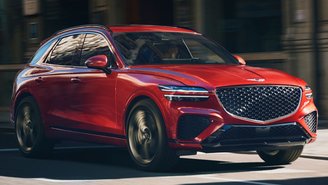 A lot is happening over at Genesis headquarters, and the news for this year includes an update to the brand's entry-level luxury sedan, the G70, and a brand-new compact GV70 luxury SUV.
As the two smallest vehicles Genesis makes, the two are close in price and performance. So what separates them, aside from a 'V' in the name? Here's a comparison of key specs and features.
See a side-by-side comparison of the Genesis G70 & GV70 »
What the G70 Gets Right
The most important difference between these two models is the obvious one: the G70 is a sedan, while the GV70 is a crossover. Although the two vehicles are only an inch or two apart in length, the G70 is nine inches shorter than the GV70.
The lower body means that the G70 is the more serious performer. It's excellent in the corners, a worthy challenger to the German sport-sedan establishment. The G70 is also much lighter than the GV70, which makes it more agile and slightly more efficient.
The G70 is also the cheaper model. In base spec, the G70 costs about $3,500 less. For not much more than a base GV70, you could have a G70 with the optional 365-horsepower turbo powertrain.
The GV70 is an all-new model, but the G70 is getting a mid-cycle refresh for 2022. It should keep up well on features and standard tech.
What the GV70 Gets Right
The GV70's crossover body makes it less of a corner-carver, but it pays dividends in cabin space. Second-row passengers enjoy 37.2 inches of legroom in the GV70, compared to 34.8 in the G70.
The difference in cargo space is even larger. The G70's sleek body restricts it to 10.5 cubic feet of capacity, which is low even for a sedan. With the second row folded, the GV70 can hold more than five times as much.
Finally, the GV70 comes with standard all-wheel drive, a $2,000 option on the G70.
Performance or Practicality?
They may share an underlying platform, but these are two fundamentally different models. The G70 is a true sport sedan — it can technically seat five, but the most important passenger is the one in the driver's seat.
The GV70's crossover shape makes it less fun and slightly less efficient, but more practical and spacious. Whether that's worth the price premium will depend on the buyer.
Our Verdict: Genesis GV70
Don't mistake this for an indictment of the G70 — Genesis' cheapest model is an excellent sport sedan and a strong value. It's held back primarily by a small trunk and rear seat, which dent its mass appeal. If you can live with those shortcomings, we recommend it. For everyone else, the GV70 offers a more spacious cabin with minimal compromise.
Take a closer look at the Genesis G70 »