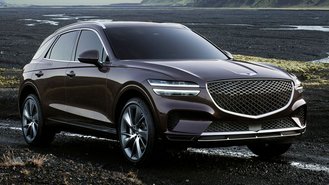 Genesis has taken the luxury world by storm with value-laden models challenging the likes of Mercedes-Benz and BMW. They're back with another contender: the 2022 Genesis GV70.
The GV70 slots just below the GV80 in the brand's crossover lineup. Here's our comparison of some of the specs and features to highlight the key differences between these luxury SUVs.
See a side-by-side comparison of the Genesis GV70 & GV80 »
What the GV70 Gets Right
As the smaller vehicle, the GV70 is also much cheaper. In base form, it costs nearly $8,000 less than the GV80.
Despite the price difference, the GV70 comes with the same two engine options as the GV80. The GV70 is lighter and smaller, which makes it both faster and more efficient.
The GV70 also keeps up well in the features department. All-wheel drive is standard, and the GV70 is available in four trims that range from luxurious to sumptuous.
Genesis is debuting some new tricks in the GV70, including a fingerprint sensor that allows the driver to start the engine or make digital payments.
What the GV80 Gets Right
The GV80 is more expensive, but it backs up the price with size. Compared to the GV70, the GV80 has an extra inch and a half of legroom in the second row. The GV80 also has the edge on cargo capacity.
The other major differentiator is seating configuration. The GV70 seats a maximum of five, but the GV80 is available with a third row. It works best for children, but it's a nice option for families who need the flexibility.
The GV70 is new, but the GV80 has an established track record. It's an IIHS Top Safety Pick+, and we can attest to its luxurious interior.
A Matter of Size
This choice is a relatively simple one. Do you need a third row? Are you sure that you need extra cargo capacity or cabin space?
If the answer to either is yes, then the GV80 is a good bet. It's a highly impressive luxury SUV for the price.
If the answer to those questions is no — and we suspect it will be for many buyers — then the GV70 is an even better value. It comes with the same engines and better features for far less cash.
Our Verdict: Genesis GV70
Genesis has outdone itself again. We like the GV80, but the GV70 has all the makings of a bestseller. It offers all the power of the GV80, most of the practicality, and an attractive price. If you're in the market for a compact luxury crossover, take a close look.
Take a closer look at the Genesis GV70 »