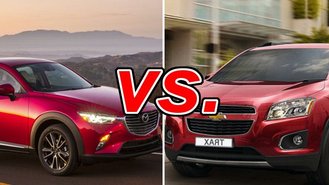 The subcompact crossover segment is still relatively new, but don't start thinking that the competition isn't fierce. In fact, automakers are creating new vehicles that fit this niche in droves, and one of the latest is the Mazda CX-3. Another newer entry into this segment is the Chevrolet Trax.
Both of these models focus on offering a lot for the money while striving to deliver great fuel economy. So, which of these small people movers does its job the best?
See a side-by-side comparison of the CX-3 and Trax»
What We Like About the Chevrolet Trax
Cargo-hauling is a big thing with all crossovers, and these extra-small models are even more sensitive to this measurable. For the Trax, cargo room is its strong suit, as it out-hauls the CX-3 with the rear seats up or down. Also important is rear-seat legroom, and the Trax takes home a slight victory in that department too.
What We Like About the Mazda CX-3
The CX-3 enters this segment as one of the lowest-priced vehicles, putting it slightly under the Trax's MSRP. On top of this extra money saved, there are a few extra standard goodies that come with the base CX-3. Under the hood, the Mazda's Skyactiv engine out-muscles the Trax's powerplant, plus it squeaks out a slight victory in terms of fuel economy. Lastly, the Mazda Kodo design exudes a sportier character, endearing itself to the younger crowd that's picking up these small crossovers.
The CX-3 is Tough to Beat
The Mazda CX-3 arrived this year with a lot of momentum, as Mazda has been steadily becoming a more recognized brand in delivering reliability and high fuel economy at a fair price. The CX-3 checks off most buyers' must-have boxes, like fuel economy and low price, while tugging on the heartstrings of younger buyers with its sporty looks and "zoom-zoom" personality.
Our Verdict: Mazda CX-3
The CX-3 doesn't handily defeat the Trax, but it does slip by it ever so slightly. While the Trax does win in terms of cargo space, all other dimensions are nearly identical. Where the CX-3 takes over is in its more powerful engine, sportier ride, and slightly better fuel economy.
Take a closer look at the Mazda CX-3 »