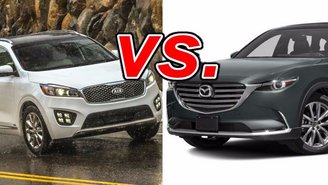 Nowadays, crossovers are big business. When the price of gas began to climb a few years ago, buyers started moving out of their large SUVs and into smaller crossovers. In order to close the gap between these two markets, what were once smallish- to medium-sized boxes grew in length, weight, height, and the number of people they could hold.
Two good examples of this trend are the Mazda CX-9 and the Kia Sorento. Both can seat up to seven people and have enough creature comforts to please the most discerning shopper.
But which one offers the most value in this segment?
See a side-by-side comparison of the Sorento & CX-9 »
What the Mazda CX-9 Gets Right
The Mazda CX-9 is fresh off a complete redesign that pushed it from middle-of-the-road crossover to sharp and competitive people hauler. The CX-9 is one of the larger crossovers in its segment, resulting in decent room for front and middle-row passengers and enough room in the third row for growing children. Cargo room is far superior to the seven-passenger version of the Sorento (which comes standard as a five-seater) at 14.4 cubic feet with the third-row seats upright.
Under its hood, the CX-9's standard 2.5-liter turbocharged engine injects 250 horsepower and 310 pound-feet of torque into this midsize crossover. This delivers great initial acceleration and passing ability, and it's also easy on gas at 22 mpg city, 28 mpg highway, and 25 mpg combined. Optional all-wheel drive and its standard 3,500-pound towing capacity are nice additions too.
What the Kia Sorento Gets Right
Buyers can get the Sorento in either front-wheel or all-wheel drive, and it comes in seven trim levels: L, LX, LX V6, EX, EX V6, SX V6, and SX-Limited. The L and LX models are powered by a 185-horsepower 2.4-liter four-cylinder engine while the LX V6, EX V6, SX V6, and SX-Limited get a beefier 290-horsepower 3.3-liter V6, giving buyers options the CX-9 doesn't offer. Splitting the difference between these engines is a 2-liter turbocharged four-cylinder in the EX model that cranks out 240 horsepower and 260 pound-feet of torque. All of the Sorento's engine utilize the same six-speed automatic transmission.
With a smaller footprint, the Sorento is easier to maneuver through traffic and parking lots. Despite its smaller size, there is actually more legroom in the front- and third-row seats than in the CX-9. The second-row seats are about equal. The only downside is that the Sorento comes standard as a five-seat model. Its third row is optional.
Finally, the Sorento wins big in pricing, coming in at thousands less than the base CX-9. As you move up the trim levels, the Sorento keeps up in terms of premium features while staying just south of the Mazda's price tag.
Why buy the CX-9?
The Mazda CX-9 is a great crossover. Any buyer would be happy to park this sharp rig in his or her driveway. There is, however, one glaring issue: price. The CX-9 starts at thousands more than the Sorento, leaving budget-conscious buyers (which most shoppers in this segment are) in sticker shock.
Our Verdict: Kia Sorento
In a segment where value matters, the Sorento's low entry price is just too much the CX-9 to overcomes. No matter how it's equipped, the Sorento will always be cheaper than a comparable CX-9.
Take a closer look at the Kia Sorento >>
Take a closer look at the Mazda CX-9 >>