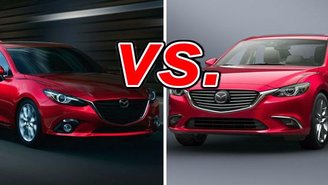 Competition within the same brand is becoming more common these days, as automakers now offer a wide range of competitive features and options. This is true with the Mazda3 and Mazda6. Both models have a lot going for them and plenty of optional features, leading to buyers comparing the two at the dealership.
We examined both the 3 and the 6 to figure out which is the better buy, and our findings are below.
See a side-by-side comparison of the Mazda3 & Mazda6 »
What the Mazda3 Gets Right
The Mazda3 starts off a few grand lower than its Mazda6 sibling, which immediately opens the budget for additional features. In fact, buyers can opt for the well-equipped Touring sedan and still come in under the Mazda6's price tag. This would include tons of great features, like 18-inch alloy wheels, keyless ignition, forward collision warning and crash mitigation, dual-zone climate control, faux-leather upholstery, a power driver seat, a nine-speaker audio system and more.
Under its hood, the Mazda3's base powertrain isn't as potent as the 6's, but it is more fuel efficient at up to 37 mpg highway. It does, however, have the same 2.5-liter four-cylinder as the 6 as an available option. This 184-horsepower engine makes the 3 a tad bit quicker than its larger sibling.
The Mazda3 also has the added benefit of an optional hatchback model, which gives it a much larger cargo area that's also easier to load.
What the Mazda6 Gets Right
The Mazda6 is slightly larger than the 3, giving it a roomier cabin that includes additional rear-seat legroom and a larger trunk. It also has more standard features, like 17-inch alloy wheels, remote keyless entry and ignition, a leather-wrapped steering wheel, a rearview camera, a 7-inch touchscreen and more.
Under its hood, the 6 comes standard with a 2.5-liter 184-horsepower four-cylinder. Though it's slightly lower than the 3, the 6's fuel economy is still respectable at up to 34 mpg highway.
The Mazda6 also features a notably quiet and relatively smooth ride. It is a bit rougher than other automaker's midsize sedans, but it is more comfortable than its compact sibling.
The Mazda3 is Great for Bargain Shoppers
The Mazda3 is a wonderful car and it nearly took down the 6. However, the Mazda6 just has so much more to offer. That said, if you need the low price or the optional hatchback, you'll certainly not be disappointed with the 3.
Verdict: Mazda Mazda6
The Mazda6's softer ride, larger cabin and additional features at a still-respectable price hand it the win. What's more, it has more potential for additional options than the 3, making it the perfect sedan for a wide range of families.
Take a closer look at the Mazda Mazda3 »