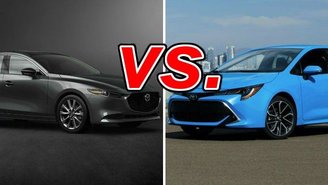 The hatchback segment is making a bit of a comeback with the Toyota Corolla Hatchback making its return in 2019 and the Mazda3 going through a redesign the same year. Both hatchbacks are great options for buyers seeking the drivability of a sedan and the roominess of a wagon, but they have distinct differences that set one apart from the other. Which is best for you? Continue reading to find out.
See a side-by-side comparison of the Mazda3 & Corolla Hatchback »
What the Mazda3 Gets Right
The 2019 Mazda Mazda3 gains a brand-new look that should be quite familiar. In creating the all-new Mazda3, the automaker updated its KODO design theme with a new rounded back end and an even longer hood. While the Toyota Corolla Hatchback is a great-looking model, it cannot compete with the Mazda3's mature and sporty design.
Inside, the Mazda3 boasts a clean dashboard that looks far more premium than its price tag implies with its dash-top 8.8-inch infotainment screen, rotary knob, and simple climate-control interface. This is especially true if you move into the higher trims with its upscale upholstery.
Under its hood, the Mazda3 boasts a 187-horsepower, 2.5-liter four-cylinder engine, which beats the Corolla Hatchback by 19 hp. On top of its extra power, the Mazda zoom-zoom personality is still alive and well in the corners. The Mazda3's added wrinkle of optional all-wheel drive makes it a better option for buyers in cooler climates.
What the Corolla Hatchback Gets Right
While the Toyota Corolla Hatchback's overall looks cannot compete with the stunning Mazda3, its sportier appearance is better suited for younger buyers. Plus, its cabin boasts a sportier take with its rounded air vents, bolstered seats, swoopy dash top, and more.
Buyers who have growing kids or often haul adults in the rear seats will appreciate the Corolla Hatchback's impressive 41.4 inches of rear leg room. That's 6.3 extra inches compared to the Mazda3 while still offering 23.3 cubic feet of cargo space with the seats upright, which is 3.3 cubes more than the Mazda3.
Finally, buyers who make long commutes can travel farther in the Corolla Hatchback with its EPA-estimated 32 miles per gallon city, 42 mpg highway, and 36 combined. This beats the best the Mazda3 can do by six mpg city, seven highway, and six combined.
Toyota Wins the Space Battle but Loses the War
The Toyota Corolla Hatchback can't win all-out against the Mazda3, but its roomy cabin makes it a great option for buyers with adult kids or who haul around adults regularly.
Our Verdict: Mazda Mazda3
The Mazda Mazda3 is a beautiful piece of machinery and delivers plenty of performance for the average buyer. Combine this with its array of standard tech and top-notch safety equipment, and this all-new hatchback is virtually unbeatable.
Take a closer look at the Mazda Mazda3 »