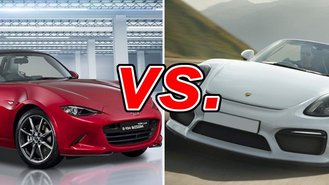 They both have two seats and neither needs a turbocharger to provide excellent performance or fuel economy. While the dramatic difference in price is going to help many make a decision before they even start looking, does the Mazda MX-5 Miata measure up to a Porsche Boxster that costs twice as much?
See a side-by-side comparison of the MX-5 Miata and Boxster »
Going Head-to-Head
The Porsche's $52,100 base price means you can buy two $24,915 Mazda MX-5 Miatas for the same money. In the spirit of fairness, two Miatas may beat the Porsche -- especially if you are married. But for our shoot-out, let's temporarily put pricing aside and weigh the two roadsters on the merits of their performance, style and efficiency.
What We Like About the Mazda MX-5 Miata
The all-new 2016 Miata is better than ever. Gas mileage is impressive at 27 mpg city and 34 mpg highway. Horsepower from the 2-liter inline-four is rated at 155 horsepower and 140 pound-feet of torque. However, the meager numbers don't reveal the brilliant work Mazda has done to provide excellent acceleration. Thanks to low curb weight, a Miata with a manual transmission will dash to 60 mph in just 6.1 seconds.
The Miata's fit and finish are top notch. The manual convertible top pops up and down in a matter of seconds with only one hand. A few minutes behind the wheel and it's hard not to think you are driving the go-kart that you dreamt about as a kid.
What We Like About the Porsche Boxster
The Porsche Boxster is a striking vehicle. Its style, much like the Miata's, is modern and fresh while exhibiting cues from the manufacturer's glorious past. The base 2.7-liter flat-six produces 265 horsepower and 206 pound-feet of torque, enough to propel the Boxster from 0 to 60 in 5.5 seconds. Larger available engines mean faster times and even more fun. Gas mileage is surprisingly efficient at 20 mpg city and 30 mpg highway.
The interior of the German roadster is simply on another level from the Miata, displaying a level of luxury rarely found in a roadster.
Our Verdict: Porsche Boxster
We can't refuse the Boxster the title in this comparison. The Porsche is faster, exhibits superior handling dynamics, and is, frankly, even easier on the eyes. However, the victory comes with a disclaimer: The all-new Miata is an amazing little roadster for the money. If your budget puts the Porsche out of reach, we can wholeheartedly recommend checking out Mazda's new MX-5 Miata.
Take a closer look at the Mazda MX-5 Miata »