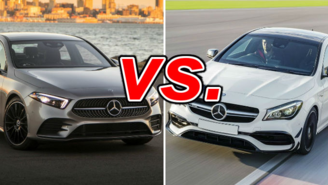 With the introduction of the A-Class, Mercedes-Benz has a second baby sedan in its lineup. The A-Class joins the existing CLA-Class, a swoopy mini-coupe with four doors. But the CLA-Class isn't dying. On the contrary, it gets a full redesign of its own for 2020. Why does Mercedes-Benz want two small sedans? And if both offer an entry point into the brand, which one is worth buying?
See a side-by-side comparison of the A-Class & CLA-Class »
What the A-Class Gets Right
The first factor to recommend the A-Class is its price. Starting at $33,495 (all prices include destination charges) for the 2019 model, the A-Class is the cheapest way to drive a Mercedes-Benz. The CLA-Class starts at $34,095, which is $600 more expensive than the A-Class.
For the price, the A-Class also offers a slightly roomier cabin than the CLA-Class. It's ahead of the CLA-Class on both leg room and head room in both rows. Head room is especially significant thanks to the CLA-Class' sloping roofline. With its boxier sedan profile, the A-Class is more comfortable for four adults.
For the money, the A-Class gets all the same interior features as well. Mercedes-Benz's new MBUX infotainment system debuted on the A-Class, and the interiors of the two cars look nearly identical.
What the CLA-Class Gets Right
Although it has the higher starting price, the CLA-Class also starts with a larger engine. The 2020 CLA-Class gains 13 horsepower over the old, which puts it a full 33 hp over the A-Class.
With its long, low body and dramatic roofline, the CLA-Class is also the more fashion-forward design. The 2020 version swaps some creases for a simpler style, but the catchy profile remains. The A-Class isn't bad looking, but the CLA-Class wins in our book.
The longer body also means more cargo space. The CLA-Class sacrifices a bit of interior space to its roofline, but its trunk has around four cubic feet more than the A-Class' small 8.6 cubic foot capacity.
Luxury on a (Relative) Budget
Both these sedans offer a compelling entry into Mercedes-Benz luxury. The A-Class is the more affordable of the two, and it offers an interior that's a touch more comfortable. But the CLA-Class' fashionable profile comes with extra power and cargo space. Which sedan you prefer may come down to personality – do you want sedan practicality or coupe looks?
Our Verdict: Mercedes-Benz CLA-Class
As long as you're in a small sedan, it may as well be stylish and sporty. We wouldn't blame anyone for sliding into an A-Class, but in our eyes the Mercedes-Benz CLA-Class is worth the price premium.
A bonus for both? AMG versions are on the way for the performance enthusiasts.
Take a closer look at the Mercedes-Benz A-Class »