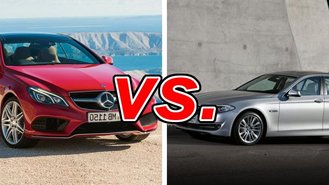 Anyone shopping midsize luxury sedans almost always starts in two places: Mercedes-Benz and BMW. This common starting point has its rationale, as the BMW 5 Series and Mercedes-Benz E-Class have long ruled the segment with Audi and Cadillac following closely behind.
See a side-by-side comparison of the E350 & 528i >>
Even in luxury segments, there is always an entry-level option, and for the Mercedes E-Class and BMW 5 Series these are the E350 and 528i, respectively. The 5 Series is slated for some mild updates, but a freshly revised E-Class is already available.
So, which of these luxury sedans comes out on top: the 528i or E350?
What the 528i Gets Right
Though its design is a bit long in the tooth, the 528i's looks remain iconic in the industry and it simply oozes luxury from every pore. BMW also puts a lot of stock in developing luxury cars that are still fun to drive, so the 528i comes standard with Driving Dynamics Control, which changes the settings of the suspension, throttle, steering and transmission, depending on the setting the drive chooses.
In the engine compartment, BMW installs a 2-liter four-cylinder engine that nets this midsize luxury ride up to 34 mpg on the highway. Don't let the 528i's fuel-sipping characteristics fool you, as it is still a performer with 240 horsepower that helps sprint it to 60 mph in just 6.4 seconds. The optional xDrive all-wheel-drive system simply sweetens the pot.
What the E350 Gets Right
The E350 rolls into dealerships with an all-new front end that is sleeker than the previous model and some slight, but necessary interior revisions. The E350 also gives buyers the opportunity to choose between a more classic look with the E350 Luxury or a sportier look with the E350 Sport at no additional cost. Luxury features are plentiful in the E350, including: 17-inch wheels (18-inch on Sport models); LED headlights and taillights; 14-way power front seats; and an eight-speaker sound system.
The E350 packs a meaner punch than the 528i with its 3.5-liter V6 that produces 302 horsepower and 273 foot-pounds of torque. This translates to a 6.5-second 0-to-60 mph sprint, plus acceptable fuel economy ratings of 21 mpg city and 30 mpg highway.
Why Buy a 5 Series?
The aging 528i is obviously outmatched by the Benz this time around, but there are still good reasons to opt for the BMW. First and foremost, the 528i is significantly less expensive than the E350. And an extra four mpg on the highway and two mpg in the city can make a huge difference for buyers who have a long commute.
Our Verdict: Mercedes-Benz E350
The 528i simply looks tired next to the revised E350, and V6 power in the Mercedes-Benz is smoother than the high-strung four-pot in the BMW.
Take a closer look at the Mercedes-Benz E350 >>