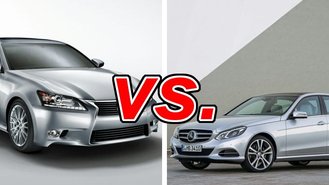 The E-Class has long served as a benchmark for midsize luxury sedans. The latest Mercedes-Benz E350 continues that tradition with bolder styling and world-class luxury. But the segment is getting more competitive, and an all-new Lexus GS 350 dazzles shoppers with European looks and manners.
See a side-by-side comparison of the E350 & GS350 >>
Can the Mercedes-Benz maintain its position as a top contender? Or will the Lexus pull an upset victory?
What The Mercedes-Benz E350 Gets Right
The refined and elegant lines of the E350 will please buyers who crave attention -- for their good taste. Performance comes from a 3.5-liter V6 that's good for 302 horsepower.
The cabin has been redesigned with seats that encourage spirited driving with extra support. The Mercedes-Benz also boasts an extensive list of convenience features including heated seats, a rear backup camera, and dual-zone climate control.
Why Choose The Lexus GS 350 Over The E350?

The German-inspired lines of the GS 350 are a vast improvement over last year's model. The Lexus also offers a 3.5-liter V6. It's slightly more powerful at 306 horsepower, and also achieves better fuel economy in freeway driving.
The GS 350's interior features plenty of standard and optional features that pamper passengers on long drives, but prices can quickly increase when equipped with certain options.
So, Has Lexus Taken the Top Prize?
The Lexus might surprise shoppers with its European flavor. But while it has the performance to back up its good looks, the Benz offers better dynamics and styling that is much more elegant.

Our Verdict: Mercedes-Benz E350
The GS 350 is a vastly improved contender in the midsize luxury segment, but the E350's greater prestige, fresh styling and revised cabin allow it to pull ahead of the Lexus.
Take a closer look at the Mercedes-Benz E350 >>