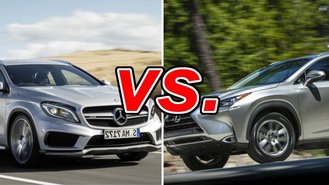 With similar base pricing, two-row seating for five, and two-liter turbocharged engines that make similar power and fuel economy, the Mercedes-Benz GLA250 and the Lexus NX 200t battle for compact luxury crossover dominance.
Who will win the clash of the luxury compact crossovers: the aggressive looking Lexus NX200t or the almost-a-hatchback GLA250?
See a side-by-side comparison of the NX200t & GLA250 »
What we like about the Lexus NX 200t
The NX 200t is a strong contender in a burgeoning compact luxury SUV segment. It makes 235 horsepower with its 2-liter turbocharged inline-four engine, enough for a relatively quick 7.1-second dash to 60 mph. Gas mileage in the most efficient front-wheel-drive trim equates to 22 mpg city and 28 mpg highway.
A silky-smooth six-speed automatic transmission takes care of gear changes. The electric power steering system, independent suspension and 18-inch wheels assure that the Lexus NX200t exhibits sporty handling characteristics around town and a relaxed ride on the highway.
What we like about the Mercedes-Benz GLA250
The GLA250 is also powered by a potent and efficient 2-liter turbocharged four-cylinder engine. The Mercedes-Benz makes only makes 208 to the NX's 235, but torque is the same at 258 pound-feet. Even with less horsepower, the GLA250 beats the NX200t to 60 mph by a half a second.
Steering is numb, but the GLA250 still proves to be fun in the city and is a decent highway cruiser, although some may find the chassis a bit stiff. The 4MATIC's "off-road" mode may not exactly do all that it seems to infer, considering the size and capabilities of the GLA, but it is a nice option to have in loose gravel and mud. Gas mileage is excellent for an SUV at 24 mpg city and 32 mpg highway.
Our Verdict: Mercedes-Benz GLA250
Both the Lexus NX200t and the Mercedes-Benz GLA250 offer aggressive modern styling that is unequivocally futuristic. If you are looking for a nice blend of sport and affordable luxury in a compact SUV package, you really can't go wrong either way.
However, the GLA250 offers better performance numbers in everything from acceleration to gas mileage. It also provides a better styling balance between polarizing aggressiveness and blend-into-the-crowd boring. While the interior of the Lexus is arguably the better of the two, I think the driving characteristics of the Mercedes warrant the prize.
Take a closer look at the Lexus NX200t »