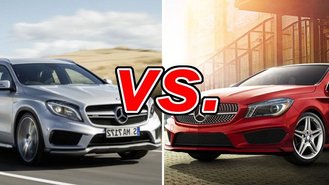 In a battle of the Mercedes-Benz lightweights, the fuel efficiently 2-liter turbocharged CLA250 sedan takes on the bigger non-identical twin brother GLA250 crossover.
Sharing the same engine and transmission, the GLA250 is in many ways a taller and more utilitarian CLA250. While neither will break the bank -- at least as a premium European car can -- they both offer a nice entry into the luxury and status of the Mercedes-Benz brand.
See a side-by-side comparison of the GLA250 & CLA250 »
What we like about the Mercedes-Benz CLA250
Mercedes-Benz's most affordable vehicle gives up little in the way of style. The attractive four-door sedan is powered by a 2-liter turbocharged four-cylinder engine that produces 208-horsepower and 258 pound-feet of torque. Zero to sixty arrives in a swift 6.3 seconds.
Overall, interior design is sophisticated. Handling is sporty, though perhaps at the expense of ride quality, and steering can feel heavy. The gas mileage numbers are quite impressive at 26 mpg city and 38 mpg highway, which adds even more appeal to the CLA250's relatively inexpensive price tag.
What we like about the Mercedes-Benz GLA250
The GLA250 compact crossover is also powered by the potent and efficient 2-liter turbocharged four-cylinder engine used in the the CLA250. That means it also makes 208 horsepower and 258 pound-feet of torque, enough to propel the small crossover from 0-60 miles per hour in 6.4 seconds -- a negligible tick behind the smaller CLA.
Steering feel isn't a strong point, but the GLA250 still proves to be fun in the city and a decent highway cruiser. As with the CLA, its suspension may be a bit stiffer than some luxury buyers expect. The 4MATIC's "off-road" mode won't take you anywhere, but it is a nice option to have for conditions like loose gravel and mud. Gas mileage is excellent for an SUV at 24 mpg city and 32 mpg highway.
Our Verdict: Mercedes-Benz GLA250
While the CLA250's price tag and impressive fuel economy will win over many hearts, the superior utility, bigger back seat, and improved driving dynamics of the GLA250 afford it the win. Neither is going to provide the luxury-liner ride for which Mercedes-Benz is famous, but both provide strong entry level luxury vehicles that look great inside and out.
Take a closer look at the Mercedes-Benz GLA250 »