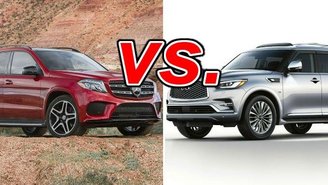 For buyers who consider size the greatest luxury of all, there's no substitute for large SUVs like the Mercedes-Benz GLS-Class and Infiniti QX80. Both are capable and plush on a grand scale, not to mention impossible to miss in a crowd. But which of these exclusive rigs goes the extra mile to impress?
See a side-by-side comparison of the GLS-Class & QX80 »
What the GLS-Class Gets Right
The Mercedes-Benz GLS-Class provides stretch-out comfort for seven passengers, even those in the third row. The tall, boxy design permits an abundance of head and shoulder room from front to back. With the rows folded, cargo space maxes out at 93.8 cubic feet, which places the GLS-Class firmly in the full-size class.
Every GLS-Class gets full-time all-wheel drive with off-road driving modes, an adaptive air suspension, and a nine-speed automatic transmission. The standard twin-turbocharged 3.0-liter V6 pumps out 362 horsepower and 369 pound-feet of torque. The optional twin-turbo 4.7-liter V8 provides a boost to 449 hp and 515 lb-ft. Both engines are rated to tow up to 7,500 pounds.
With the V6 engine, efficiency is pretty good for this class of vehicle. Buyers can expect an EPA-estimated 19 miles per gallon city, 23 mpg highway, and 21 combined.
What the QX80 Gets Right
The Infiniti QX80 combines the capability of a full-size truck with all the amenities and fine finishes Infiniti has to offer. Up to eight passengers can sink into the cushy leather seats and look down at just about every vehicle on the road.
There's nothing shy about the QX80, and that's part of its appeal. This is an SUV for people who have no reservations about piloting a 5,900-pound vehicle around town. Towing capacity is a truck-like 8,500 pounds. Plus, with the second and third rows folded, the QX80 can handle up to 95.1 cubic feet of cargo.
All models come with a 5.6-liter V8 good for 400 hp and 413 lb-ft of torque. Rear-drive is standard, but most buyers opt for four-wheel drive. So equipped, the QX80 is EPA-rated at 13/19/15 mpg (city/highway/combined).
What's the Big Difference?
As large as it is, the Mercedes-Benz GLS-Class is an agreeable driving companion. Responsive steering and the adaptive suspension keep it from feeling like a handful. In fact, the GLS-Class handles as well as many smaller, less-capable crossovers.
The Infiniti QX80 bests the GLS-Class in interior room and pulling power, but never lets the driver forget about its size. It's a massive, thirsty beast that happens to take luxury to the extreme.
Our Verdict: Mercedes-Benz GLS-Class
The Mercedes-Benz GLS-Class provides the benefits of a full-size SUV while minimizing the drawbacks.
Take a closer look at the Mercedes-Benz GLS-Class »