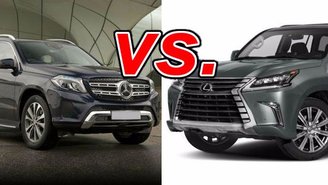 The Mercedes-Benz GLS450 combines German quality with power, comfort, and style. All-new for 2017, the GLS450 features an exceptionally luxurious interior, a new V6 engine, and seating for up to seven passengers.
The Lexus LX 570 is traditional SUV with standard four-wheel drive and room for eight. This SUV may look like a rugged beast, but it's extremely comfortable and smooth.
The LX 570 is more capable off road, but it's also more expensive than the GLS450? All things considered, which one earns our vote?
See a side-by-side comparison of the GLS450 & LX 570 »
What the GLS450 Gets Right
The Mercedes-Benz GLS450 brings a lot to the table. With its new V6, 3.0-Liter engine, producing approximately 362 horsepower, this SUV is now more realistic to drive. The new engine got coupled with a new nine-speed transmission, which makes this vehicle use 17 mpg on the streets and 22 mpg on the highway. The interior is welcoming, as it features fine quality wood all around, as well as high quality leather. The spacious interior allows for grown-humans to sit in the third row without any complaints. The exterior is also highly upgraded, featuring an aggressive look, that combines ruggedness with style. As per Mercedes' reputation, the safety is second to none. This is one of the top luxury SUVs on the market.
What the LX 570 Gets Right
The silky luxury for which Lexus sedans are known transfers beautifully to LX 570. For something with such rugged DNA, the Lexus is remarkably smooth and quiet. The 5.7-liter V8 delivers 383 horsepower, good enough to get the LX up to 60 mph in 7.3 seconds. It also achieves car-like braking distances and can tow up to 7,000 pounds, although cargo space is nothing special at 83 cubic feet.
Is Lexus LX 570 Worth the Extra Money?
Although the Lexus LX 570 offers everything a luxury SUV shopper could want, it's tough to beat the quality of the GLS450, especially when you're adding that much to the price tag.
The Mercedes-Benz GLS450 lives up to the brand's reputation in every way.
Take a closer look at the Mercedes-Benz GLS450 >>