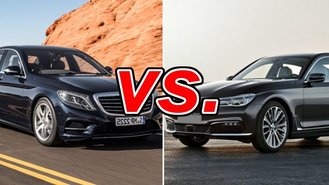 As the source of the world's finest luxury sedans, one country sets the benchmark: Germany. While it's true that Audi has enjoyed a resurgence in recent years, Mercedes-Benz and BMW still reign supreme. Their large sedans tend to showcase gadget-wizardry and outrageously luxurious options for buyers with especially deep pockets -- but which one has the most to offer?
See a side-by-side comparison of the S550 & 740i »
What the Mercedes Benz S550 Gets Right
You can always count on Mercedes-Benz to deliver power, and the S550 is no exception. Its beating heart is a 4.6-liter biturbo V8 pumping out 429 horsepower and 516 pound-feet of torque. This is paired to an exceptional seven-speed automatic transmission with power going to the rear wheels; an optional all-wheel drive system available.
The auto-damping suspension delivers a ride that is about as close to bump-free as you could expect. Exterior styling oozes class with subtly masculine features -- the interior is elegant, packed with standard and optional luxury appointments. Starting at nearly $100,000, it isn't cheap, but few nice things ever are.
What the BMW 740i Gets Right
For 2016, BMW has completely redesigned its 7 Series, including the base-level 740i. Like the S550, the BMW 740i is loaded to the gills with premium features like auto high-beam headlights, LED fog lights, 18-inch wheels, Dakota leather upholstery, Fineline wood trim, a 16-speaker audio system, and more. All of this comes wrapped up in a redesigned body that isn't a huge change from the previous generation. Under the skin, however, is BMW's new Carbon Core passenger cell that reduces heft by up to 190 pounds.
Under the hood of the 740i is a turbocharged 3-liter inline-six that produces 320 horsepower and 330 pound-feet of torque. This six-pot mates to an eight-speed auto transmission that delivers power exclusively to the rear wheel. As expected, this six-cylinder engine results in much better fuel economy relative to the S550's V8.
Which One Has More Goodies?
The Mercedes wins here and by a wide margin. With available features such as ambient mood lighting for the speaker system and a massage system that simulates warm stones, there is no comparison.
Winner: Mercedes Benz S550
While it's true the price is a good deal higher than the BMW's, we feel the S550 is a better example of a true luxury sedan. It has more power than you need, more leather than you need and way more gadgetry than you need -- which is exactly why you'll want it.
Take a closer look at the Mercedes-Benz S550 »