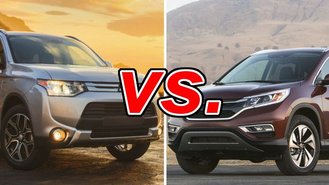 It wasn't until the early 2000s that the crossover achieved "best of both worlds" status: blending SUV utility with the friendliness of car-like handling and improved fuel economy. It's now one of the industry's most popular segments, and the competition is fierce.
See a side-by-side comparison of the Outlander & CR-V »
The Honda CR-V was a crossover pioneer, and remains a bestseller. Does the Mitsubishi Outlander have what it takes to present a credible challenge?
The Comfortable CR-V
The CR-V comes with only one engine: a 185-horsepower 2.4-liter four-cylinder that sips gas at an estimated 26 mpg city and 33 mpg highway. All-wheel drive is optional. Although you can't call the CR-V quick, it does have a five-star crash rating.
There's also plenty of room. Cargo space expands from 35 cubic feet to an impressive 71 cubic feet when the rear seats are folded. Features include the HondaLink infotainment system, keyless entry, a rearview camera, touch and voice controls, keyless entry, and Bluetooth integration.
The Lively Outlander
The Outlander trades the CR-V's smooth ride for sportier handling. It also offers higher performance with an optional 230-horsepower V6 in GT trim.
The base Outlander doesn't boast many extras -- one auxiliary audio jack is the limit of its media capabilities, for instance.
Configuring the seats can be a tricky process, and though it does have a third-row seat -- which the CR-V doesn't -- the cramped space feels like an afterthought.
Are They Equals?
Both the CR-V and the Outlander present strong benefits to the consumer in the crossover category, at comparable prices and with similar design cues.
Our Verdict: Honda CR-V
The CR-V has more entry-level options and a well thought-out interior. While the Outlander's sportiness is endearing to the driving enthusiast, the car lacks the comfort and utility to compete head-to-head.
Take a closer look at the Mitsubishi Outlander »