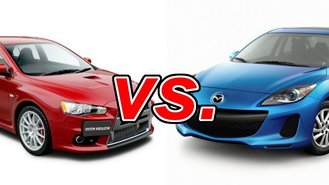 The Mazda3 was completely redesigned for 2014, which raises some questions. Will it face serious resistance from the Mitsubishi Lancer, a stalwart in the compact class with a rally pedigree?
See a side-by-side comparison of the Lancer & Mazda3 >>
Both have their strong points, but which should buyers choose?
What the Mazda3 Gets Right
The Mazda has always had a chassis that offers great handling on highways and twisting back roads. With the update it retains the fun while offering more refinement over rougher surfaces. Inside and out, a design defined by swooping lines is more mature.
In addition, the interior comes with amenities like available Bluetooth connectivity for phones, a center armrest for rear-seat passengers and a bevy of safety features. Buyers can opt for a fuel-efficient four-cylinder engine with nearly 40 mpg on the highway or a more powerful 2.5-liter four.
Points in Favor of the Mitsubishi Lancer
While the Mitsubishi Lancer has remained mostly unchanged for the last several years, that does not mean it isn't a worthy contender. Power and fuel economy numbers are average, as is braking distance. At a time when many compact sedans have flaws, the Lancer does most everything well.
Recent additions like a standard rearview camera are rare in the class, and the sportier Mitsubishi Lancer Ralliart offers all-wheel drive and a turbocharged engine that outperforms most Mazda3 trim lines.
Why the Mazda3 Remains a Top Choice
The Lancer was once a top option for many new car buyers. However, as other companies like Mazda continually refine their offerings, Mitsubishi hasn't really kept up. You can opt for better fuel economy with certain Mazda3 trim lines, and the interior quality and handling of all models put it a step ahead of the Lancer.
Our Verdict: Mazda3
A redesigned Mazda3 offers more grown-up styling without destroying the fun and peppy handling characteristics that buyers have come to love from the Japanese automaker. The total Mazda3 package will tempt more buyers to open their checkbooks.
Take a closer look at the Mitsubishi Lancer >>