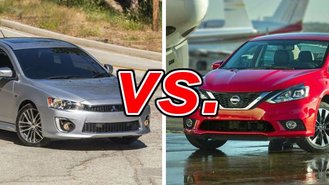 They both compete in the compact sedan class, but that's about the only thing the Mitsubishi Lancer and Nissan Sentra have in common. The Lancer strives to be the lovable delinquent of the bunch, while the Sentra delivers the comfort and style of a larger sedan. Which approach to economical motoring impresses us more?
See a side-by-side comparison of the Lancer & Sentra »
What's to Like About the Lancer?
The Lancer distinguishes itself with angular styling and an abundance of body creases. The overall look is sharper and more upright than most cars of this size. Buyers looking for a little excitement will appreciate the Lancer's responsive steering and handling-biased suspension.
The entry-level ES runs with a 2-liter four-cylinder good for 148 horsepower, commendable output for a base engine in this class. The rest of the lineup (SE, SEL, GT) gets a 2.4-liter with 168 horsepower for decidedly quick acceleration. All-wheel drive comes standard on the SE and SEL and is optional on the ES (along with the 2.4-liter).
What's to Like About the Sentra?
The Sentra aims for above-average refinement for this class and certainly achieves it. The understated styling will remind you of more expensive cars and is likely to wear well over time. There's plenty of passenger space, especially in the back. Fit and finish are excellent throughout, well beyond anything found in previous Sentras.
Underneath the skin, the focus is efficiency. The 1.8-liter four-cylinder makes 130 horsepower, which is nothing special, but the Sentra can hit 40 mpg on the highway when equipped with the available automatic transmission.
Which Stands Out?
Buyers stepping down from larger cars will undoubtedly appreciate the Sentra. It hides its economy-car roots fairly well with upscale looks, quality trim, and smooth operation. The Lancer outperforms the Nissan in just about every measure, but slips badly when it comes to refinement and efficiency.
Our Verdict: Nissan Sentra
Plush and efficient, the grown-up Sentra makes a compelling case for going small.
Take a closer look at the Mitsubishi Lancer >>