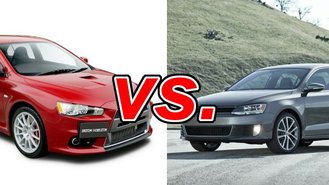 While foreign entries used to dominate the small sedan market, new American cars like the Chevrolet Cruze and Ford Focus lead the segment today. Imports such as the Mitsubishi Lancer and Volkswagen Jetta sell moderately well, but haven't been able to seize the attention of the buying public. Is this fair?
See a side-by-side comparison of the Lancer & Jetta >>
What the Mitsubishi Lancer Gets Right
Serving as the foundation for Mitsubishi's famed Evolution, the Lancer has sporty driving dynamics in its genes. Though the base model's 148-horsepower inline-four may not show it, the top-of-the-line Ralliart trim -- which is equipped with a 237-horsepower turbocharged engine -- proves the Lancer is fun-to-drive. On all trims except the Ralliart, a lively five-speed manual transmission is standard.
The exterior is modern and representative of the sporty nature of the Lancer. Inside the Mitsubishi sedan is a Rockford-Fosgate audio system complete with hard-drive memory and full, rich sound.
What the Volkswagen Jetta Gets Right
With five trim levels -- base, S, SE, SEL and TDI -- there's a Jetta for almost everyone. The budget-conscious will appreciate a base model that keeps prices low by leaving equipment like air conditioning off the list of standard features. The 42 mpg TDI, meanwhile, is ideal for those who like their cars efficient and sporty.
The interior is roomy with easy-to-use technology like Bluetooth and satellite radio. The center stack's design, though simple, is functional and allows for quick familiarity.
What is Keeping These Sedans From the Top?
When shoppers are looking for a car, they usually want whatever offers the most "complete package" at their price point. Though the Jetta and Lancer offer plenty, many buyers find they can get more from a competing model. For example, the Jetta was traditionally a cult hero to a small niche of drivers willing to pay extra for turbocharged engines and aggressive handling. However its most recent generation has sacrificed on quality to lower the MSRP, again making it ideal for certain shoppers, but not most.
Our Verdict: Volkswagen Jetta
Our winner, the Jetta, provides better powertrain options and a higher level of refinement.
Take a closer look at the Mitsubishi Lancer >>