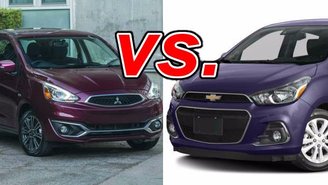 After sitting out the 2016 model year, the Mitsubishi Mirage returns with a restyled exterior, interior upgrades, and new equipment choices.
The Chevrolet Spark is lowest-priced vehicle in the entire GM portfolio. This pint-sized sedan comes with a relatively powerful engine, as well as an impressive number of safety features.
Which vehicle takes the edge in this comparison: the Mitsubishi Mirage or the Chevrolet Spark?
See a side-by-side comparison of the Mirage & Spark »
What the Mirage Gets Right
The Mitsubishi Mirage comes equipped with a 1.2-liter three-cylinder engine, which produces 78 horsepower. The three-cylinder engine is coupled with a five-speed manual transmission, with the option of upgrading to an automatic transmission. Automatic-equipped models gets 37 mpg in city driving and 43 mpg on the highway(39 mpg combined). The Mirage comes with power windows, locks, and mirrors, as well as the options like a rearview camera, keyless ignition, and bi-xenon headlights.
What the Chevrolet Spark Gets Right
The Chevrolet Spark comes equipped with a 1.4-liter four-cylinder engine that produces 98 horsepower. The four-cylinder gets approximately 35 mpg in combined city and highway driving with paired with the available automatic transmission. The Spark offers plenty of nice features for its price class, including a backup camera, power heated side-mirrors, keyless entry, and leatherette upholstery. As for safety, the Spark offers rear parking sensors, forward collision alert, and lane departure warning.
Who takes the lead: the Mirage or the Spark?
Although the Mitsubishi Mirage boasts a slightly lower price, the Chevrolet Spark offers much better quality, more features, and higher safety ratings than the Mirage.
The Chevrolet Spark offers better performance than most competitors in its class, as well as impressive features that assist in comfort, performance, and safety.
Take a closer look at the Mitsubishi Mirage >>