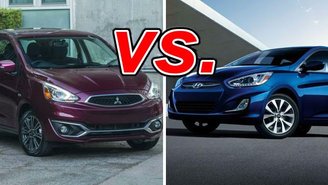 After sitting out the 2016 model year, the Mitsubishi Mirage returns with a restyled exterior, interior upgrades, and new equipment choice.
The Hyundai Accent has come a long way in recent years, especially in terms of standard features and overall refinement. It's now a serious contender in the subcompact class.
Which car is the better choice: the Mitsubishi Mirage or the Hyundai Accent?
See a side-by-side comparison of the Mirage & Accent »
What the Mirage Gets Right
The Mitsubishi Mirage comes equipped with a 1.2-liter three-cylinder engine, which produces 78 horsepower. The three-cylinder engine is coupled with a five-speed manual transmission, with the option of upgrading to an automatic transmission. Automatic-equipped models gets 37 mpg in city driving and 43 mpg on the highway(39 mpg combined). The Mirage comes with power windows, locks, and mirrors, as well as the options like a rearview camera, keyless ignition, and bi-xenon headlights.
What the Accent Gets Right
The Hyundai Accent comes equipped with a 1.6-liter four-cylinder engine, which develops 138 horsepower. The upgraded handling of the Accent makes it shine in this class, as it features heavier steering than many cars of its grade, especially when you choose the Sport model with electric power steering. The Accent comes equipped with a six-speaker sound system, split-folding rear seats, as well as other essential features like air conditioning, power mirrors, and power windows.
Which One Make More Sense?
Although both cars are extremely close in price and features, the Hyundai Accent features a much more powerful engine, which gives it an edge.
The Hyundai Accent features all the essential features you may need, as well as good performance for the price.
Take a closer look at the Mitsubishi Mirage >>