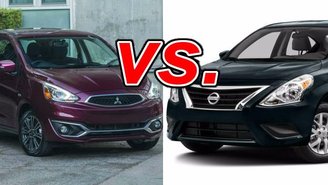 After sitting out the 2016 model year, the Mitsubishi Mirage returns with a restyled exterior, interior upgrades, and new equipment choices.
The Nissan Versa received major upgrades in 2015, which carried over with only slight modifications for two years after. The new Versa features some impressive features and options, as well as an attractive design.
Which car is the better choice: the Mitsubishi Mirage or the Nissan Versa?
See a side-by-side comparison of the Mirage & Versa »
What the Mirage Gets Right
The Mitsubishi Mirage comes equipped with a 1.2-liter three-cylinder engine, which produces 78 horsepower. The three-cylinder engine is coupled with a five-speed manual transmission, with the option of upgrading to an automatic transmission. Automatic-equipped models gets 37 mpg in city driving and 43 mpg on the highway(39 mpg combined). The Mirage comes with power windows, locks, and mirrors, as well as the options like a rearview camera, keyless ignition, and bi-xenon headlights.
What the Nissan Versa Gets Right
The Nissan Versa comes equipped with a 1.6-liter four-cylinder engine, which develops 109 horsepower. The Versa is rated to achieve 31 mpg in the city and 40 mpg on the highway. However, if you're looking at the five-speed manual transmission, expect 27 mpg in the city and 36 mpg on the highway. The base model will get you some essential features like air conditioning, Bluetooth connectivity, and power side mirrors. If you decide to upgrade from the base model, you can get features like keyless entry, a rearview camera, and even a leather-wrapped steering wheel. Although the Nissan Versa carries a very low starting price, it brings a lot more to the table than most competitors.
Which Do We Like More?
Although both cars are quite close in price, the Mirage is a tad more expensive, while the Nissan Versa offers more power, more options, and more cargo space, which gives it the lead in this competition.
The Nissan Versa starts at an extremely low price, and offers all the essentials at that base trim level. It also provides decent performance, quality, and features for this class.
Take a closer look at the Mitsubishi Mirage >>