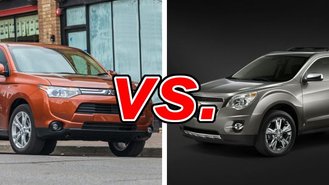 After several years on the market, the current Chevrolet Equinox is still one of the most popular compact crossovers out there. It might not have the visual appeal or technological gimmicks of the most recent entries, but it's a practical and well-rounded vehicle for a lot of people. But would something like the new Mitsubishi Outlander -- well-priced and offering a standard third-row seat -- be more worthy of consideration?
See a side-by-side comparison of the Outlander & Equinox >>
What the Chevrolet Equinox Gets Right
The Equinox offers a lot of choice for consumers. There are four trim levels, two engines and either front- or all-wheel drive. It's larger than many compact crossovers, meaning there's lots of space for four people and all of their luggage. The 2.4-liter four-cylinder is pretty fuel efficient, and the 3-liter V6 is there for people who need more towing ability. It has a comfortable and quiet ride, too, making it excellent for long trips.
What the Mitsubishi Outlander Gets Right
The Mitsubishi Outlander follows the same larger-than-compact formula of the Equinox, but does it for slightly less money and with the addition of one party trick: a third-row seat. It's standard on all Outlanders and offers extra space if you need to do the occasional carpool run. Adults will not be happy back there, however. Also, like the Equinox, the Outlander is one of the few compact crossovers still offering a V6.
Does the Outlander Belong on Your Shopping List?
Unfortunately, the Outlander is fairly unexceptional once you look past all of the features it offers. The 2014 redesign certainly made it a more bland vehicle than the sportier previous version. On top of that, the Equinox offers better infotainment and telematics support, with MyLink and OnStar, versus what's offered by Mitsubishi.
Our Verdict: Chevrolet Equinox
It's a case of getting what you pay for when comparing these two. Sure, the Outlander is a good crossover, but the Equinox is a better one, and worth that little bit more.
Take a closer look at the Mitsubishi Outlander >>