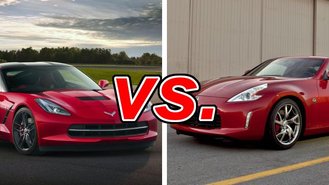 When you think of sports cars, it's safe to say the first image that pops into your head is a coupe. This isn't surprising, as many – if not most – of history's great sports cars were coupes in one form or another.
See a side-by-side comparison of the 370z & Corvette >>
One of the first to come to mind is the Chevrolet Corvette, an all-American beast built for roaring down the highway. When others imagine a sports car, however, their thoughts turn to Japan and the Nissan 370Z.
Both are fantastic examples of the breed, but which is a sports car thoroughbred in its purest form?
What the Corvette Gets Right
It's hard to argue with tradition. The Corvette's icon status wins it attention from crowds. And whether it's the Stingray coupe or the absolutely insane ZR1 with a mammoth 638-horsepower at its disposal, you're getting a monster of a machine that's able to compete with the most expensive exotics for a much smaller outlay. But the Corvette doesn't have to cost as much as an exotic to get the same speed, sound and applause. And that's what makes it special.
What the Nissan 370Z Gets Right
The 370Z is also available as a hardtop or convertible, with either a six-speed manual or automatic transmission – but using a 3.7-liter V6 with either 332 horsepower or 350 in the NISMO. But it, too, lives up to its own heritage of the original 240Z of being a small and relatively inexpensive driver's car.
Which Is The Purest Sports Car?
That might have to be the Corvette, thanks to its V8 power. The 370Z has a good formula, but sports cars also have to look good. And the somewhat dumpy Z pales next to the sharp Corvette.
Winner: Chevrolet Corvette
It may cost a lot more than the 370Z, but the Corvette's fanfare and Americana finally gets the performance and handling to bring it up as a serious world beater. It has the looks, too. The whole package leaves people in awe and that's what a sports car should do.
Take a closer look at the Nissan 370z >>