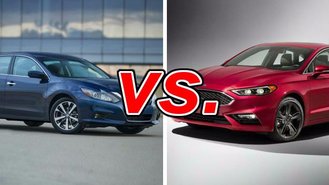 For the last decade, the Toyota Camry and Honda Accord have dominated sales in the family sedan segment. But impressive products from several other automakers are beginning to steal their thunder—and sales.
Nissan got serious about its Altima model more than ten years ago, and it's now a top seller. So, too, is the Ford Fusion, the first serious American midsize contender since the original Ford Taurus.
Which of these accomplished rivals gets our vote?
See a side-by-side comparison of the Altima & Fusion »
What We Like About the Fusion
Walk up to the Ford Fusion and the first thing you'll notice is breathtaking styling. Its grille is reminiscent of an Aston Martin; the side profile brings Audi to mind. Such European influences aren't surprising. The Fusion is sold in Europe as the Ford Mondeo.
The Fusion brims with technology, too, from efficient four-cylinder EcoBoost engines to options like and active parking assist and Ford's new Sync 3 infotainment interface.
What the Altima Gets Right
The Altima's more conventional styling is quite tasteful, and even mid-level models have nice touches like navigation and keyless ignition. Its engine choices could be more refined, but they deliver terrific fuel efficiency. The Altima also offers good value. A comparably equipped Fusion will cost thousands more.
Why One Is the Obvious Choice
The Altima makes a strong play for buyers who want comfort and practicality at a reasonable price. The Fusion sets new standards for design and technology that could actually draw new buyers into the family sedan market.
Our Verdict: Ford Fusion
The Altima is a good car that serves the needs of the target market. The forward-thinking Fusion does that and more.
Take a closer look at the Nissan Altima >>