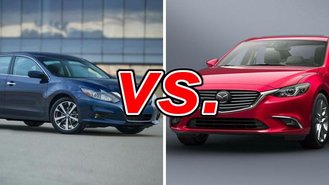 The Nissan Altima has consistently landed at the top of U.S. sales lists, boosted by its reputation as an effortless daily driver. Lauded for its reliability and safety, the Altima has long been a go-to model in the midsize sedan category.
The Mazda isn't necessarily a name that winds up on a typical family's shopping list, but the talented Mazda6 is making an aggressive play for a slice of the market. How does it fare against the people-pleasing Altima?
See a side-by-side comparison of the Altima & Mazda6 »
What the Altima Gets Right
Now in its fifth generation, the Altima plays to its strengths: reliability, safety, and fuel efficiency. The base standard 2.5-liter four-cylinder engine produces 182 horsepower, and can opt for a 3.5-liter V6 with a robust 270 horsepower.
All Altima models use Nissan's Xtronic CVT (continuously variable transmission), which is entirely automatic. Higher-end models, however, offer a manual mode with paddle shifters. Fuel efficiency is great across the line: the four-cylinder gets 27 mpg around town and 38 mpg on the highway, and the V6 returns a still-respectable 22 mpg in city driving and 31 mpg on the highway.
What the Mazda6 Gets Right
While "sexy" isn't the first word that comes to mind when thinking of midsize sedans, the Mazda6 comes close. With a striking exterior complete with hypnotizing metallic paint, the Mazda6 looks sleek, fast, and even exciting.
Of course, looking great can only take you so far, so the Mazda6 has the brains to match its beauty. All three trim levels (Sport, Touring, Grand Touring) use a 2.5-liter four-cylinder that delivers 184 horsepower. Mazda's six-speed automatic transmission is also used in all models, and the Sport and Touring get can a six-speed manual, a rarity in this class. The Mazda6 is rated at 26 mpg in the city and 38 mpg in highway driving.
Is the Altima Still The Obvious Choice?
Many buyers will be swayed by Altima's impeccable reputation and its robust options, including the powerful V6 engine.
The Mazda6 is aimed at shoppers seeking a sportier sedan experience. It offers athletic handling, a swoopy body, and even a manual transmission for the fun of it.
Our Verdict: Mazda Mazda6
The Altima will always be a satisfying choice for most buyers, but the Mazda6 transforms the family sedan into something stylish and entertaining to drive. That makes it a standout in this class.
Take a closer look at the Nissan Altima >>