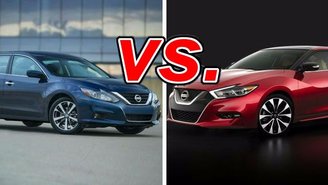 In recent years, it's becoming more common for automakers to have two cars in a single segment. This is true for Nissan and its Maxima and Altima sedans. Both are midsize cars, but the Maxima is a more "premium" car.
Despite its tag as a premium sedan, buyers often cross-shop both cars. We looked at both to figure out which is the better value. Continue reading to see what we think.
See a side-by-side comparison of the Altima & Maxima »
What the Altima Gets Right
As expected, the less-equipped Altima comes in far cheaper than its Maxima big brother. While it may not start with the same standard features as its pricier stablemate, it is decently equipped for its price and you'll have a lot of room in your budget for options. In fact, you could opt for the range-topping 3.5 SL and only be a few hundred bucks over the Maxima's starting price.
For those looking for more fuel economy, the Altima is the way to go. Its standard 2.5-liter four-cylinder gets 27 mpg city and 39 mpg highway, while its optional 3.5-liter V-6 is rated 22 mpg city and 32 mpg highway – both exceed the Maxima's mileage.
Despite being a touch shorter than the Maxima, the Altima has a far roomier back seat, making it better for families. It also holds more cargo than the larger sedan.
What the Maxima Gets Right
Being a far more premium model, the Maxima' cabin is more upscale looking and feeling than the Altima's. Additionally, it comes with many more standard feature, including 18-inch alloy wheels, auto headlights, dual-zone climate control, power front seats, a leather-wrapped steering wheel, an 8-inch touchscreen, navigation and more.
Because it starts with more features, the Maxima has many more high-end options that the Altima simply doesn't offer.
The Maxima packs more of a punch too with its 3.5-liter V6 that churns out 300 horsepower. It also handles the corners like the "four-door sports car" Nissan touts it as.
The Maxima's Cost Holds It Back
The Maxima is a fine piece of machinery, but it has one glaring flaw: its starting price. With well-equipped versions approaching $40,000, the Maxima's price tag makes it unattainable for many buyers. It is, however, perfect for a buyer who can't quite afford a typical luxury sports sedan.
Verdict: Nissan Altima
The Altima outplays the Maxima is nearly every main category the average buyer is focused on: fuel economy, price and performance. Sure, its four-cylinder engine is no match for the Maxima, but its V6 makes it nearly as quick as its big brother. Add to that its roomier cabin and lower price, and we have a winner.
Take a closer look at the Nissan Altima »