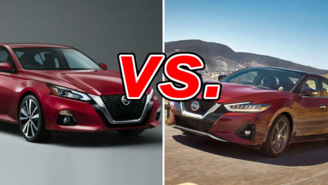 The Nissan Altima, the brand's high-volume mid-size sedan, has been redesigned for 2019 with emphasis on performance and style. But it's not the only compelling sedan in the Nissan lineup. Buyers looking for more sophistication and luxury – and who have more money to spend 2 can upgrade to the Maxima, the brand's long-running flagship. Is the Maxima still worth the extra cost, or does the latest Altima make more sense?
See a side-by-side comparison of the Altima & Maxima »
What the Altima Gets Right
The Altima has been treated to a new chassis that permits sharper handling and a slightly larger interior. Outside, the Altima is lower, longer, and altogether more dramatic. In fact, it's a doppelganger for the more expensive Maxima.
The new base engine is a 2.5-liter four-cylinder that delivers 188 horsepower and 180 pound-feet of torque to the front wheels. Nissan's excellent continuously variable transmission (CVT) helps the Altima achieve EPA ratings of 28 miles per gallon city, 39 mpg highway, and 32 combined. The 2.5-liter can be paired with all-wheel drive, a first for the Altima.
The optional 2.0-liter turbocharged four-cylinder endows the Altima with 248 hp and 280 lb-ft of torque. The CVT does duty here, too, but AWD isn't available. Even with all that extra power, EPA ratings are down only slightly to 25/34/29 mpg (city/highway/combined).
What the Maxima Gets Right
We like to think of the Maxima as a premium full-size sedan. It delivers more room, performance, and standard features than cars like the Altima, but stops just short of the luxury class. Along with expressive design inside and out, the Maxima displays exceptional handling for its size. When highway duty calls, the Maxima happily takes on the role of a plush cruiser.
The standard 3.5-liter V6 engine produces 300 hp and 261 lb-ft of torque, enough to make the Maxima competitive with many sport sedans. The CVT isn't shy about pouring on the power, and yet never induces a raucous that might spoil the mood. EPA estimates come in 20/30/24 mpg.
The Gap Narrows
The Maxima continues to impress us with its daring design, trademark handling, and overall refinement. This year, the Altima has taken a page out of the Maxima's book, delivering snappier performance and vastly improved style. The Altima still doesn't measure to the Maxima in many respects, but it comes close enough for us to wonder whether the Maxima has a future in the Nissan lineup.
Our Verdict: Nissan Altima
The latest Nissan Altima might be the only sedan Nissan needs.
Take a closer look at the Nissan Altima »