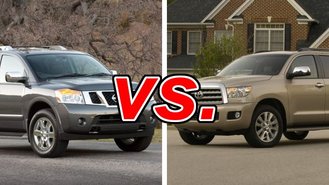 American's love affair with the traditional SUV peaked over a decade ago. Since then, automakers have steadily moved their family haulers to more efficient passenger-car platforms, creating a new class of vehicle known as the crossover.
See a side-by-side comparison of the Armada & Sequoia >>
Despite their thirst for fuel, the largest truck-based SUVs have survived because they offer what no crossover can: heavy-duty towing ability, room for eight, and the prestige of sheer size.
The Nissan Armada and Toyota Sequoia are long-standing members of this brawny group. We take a look at why they continue to find buyers.
What We Like About the Armada
The Armada shares its platform with Nissan's muscular Titan pickup as well as its 317-horsepower 5.6-liter V8. Acceleration is lively for a vehicle of the Armada's mass, and its 9,100-pound towing capacity ranks at the top of this class. That's enough grunt to handle a full-size Airstream trailer or cabin cruiser.
Abundant interior options and trim upgrades make it easy to push the Armada into luxury territory. The Platinum Reserve model's sumptuous chocolate-and-almond interior looks particularly appetizing. There's ample room for eight passengers, or seven with second-row captain's chairs, and cargo capacity comes in at 97 cubic feet.
What We Like About the Sequoia
The Sequoia packs a 380-horsepower 5.7-liter V8 that propels it from zero to 60 mph in 6.7 seconds -- downright fast for anything so massive. Towing capacity tops out at 7,400 pounds.
The Sequoia's major attribute is its independent rear suspension, which provides confident handling and enhanced cargo volume. The third-row seat folds completely into the floor, allowing for 67 cubic feet of space, or a whopping 121 with all seats folded -- this all happens at the touch of a button in the Sequoia's upper trim levels.
What's Important?
Although it's not as fast as the Sequoia, the Armada can pull an extra 1,700 pounds, the difference between taking your 30-foot boat to the lake or not. The Sequoia wins on cargo space and is generally easier to handle on the road.
Of course, buyers concerned with fuel efficiency or parking should rethink their priorities or shop elsewhere.
Our Verdict: Toyota Sequoia
The Toyota's extra space and more civilized performance make it a better choice for most drivers.
Take a closer look at the Nissan Armada >>