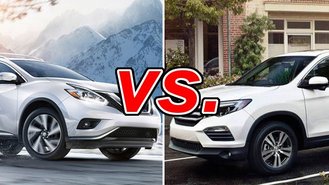 Since hitting the market for 2003, the Nissan Murano has created quite a fan base with its edgy design and advanced technology features. The Honda Pilot, meanwhile, appeals to a more conservative crowd with its practicality and emphasis on functionality over style.
See a side-by-side comparison of the Murano & Pilot »
Although Honda claims a refresh to its second-generation Pilot in 2012, the Nissan Murano has a brand-new look and is certainly the more swanky SUV. But how do they compare?
What the Nissan Murano Gets Right
Since its introduction, Nissan has continually refined the Murano -- the ongoing attention has produced a strikingly handsome automobile. The wide front fascia with integrated headlamp design, and sculpted exterior lines, create a distinctive look.
The Murano is available in four different trim levels with front and all-wheel drive configurations. The simple-yet-elegant interior is comfortable, and Nissan provides ample luxury and convenience features as standard equipment.
What the Honda Pilot Gets Right
Sense and sensibility in a durable and reliable package best describes the Honda Pilot. Seating for eight and a no-nonsense design mean the Pilot can hold up to eight passengers and offer more cargo room than other vehicles in this class.
Currently in its second generation, the Pilot is now larger than previous models, and the all-wheel drive variant has a towing capacity of 4,500 pounds. The Honda Pilot is a dependable and reliable work horse.
Choosing Between Flash and Function
The Pilot may not offer a memorable design, but what it lacks in style it certainly makes up for in practicality. However, the Nissan Murano is sharp and on par with more sophisticated and expensive luxury SUVs. These two vehicles may be in a similar price range and class, but it is obvious they target very different buying segments.
Our Verdict: Honda Pilot
First and foremost, an SUV should emphasize functionality. The Honda Pilot may not be flashy but it serves a purpose, and its overall design fits the model well. In the competitive world of luxury SUVs, the Nissan Murano may get lost in the crowd. However, the utilitarian Pilot gets our vote because it can seat eight and pull a boat or camper.
Take a closer look at the Nissan Murano »