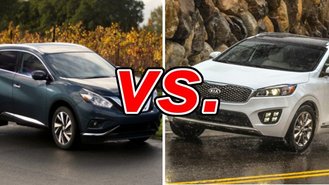 The Nissan Murano and Kia Sorento both debuted in 2002, but with very different missions. The Murano presaged the future of the car-based crossover trend, while the Sorento was a rugged truck-based five-seater that created a good impression of the Kia brand.
See a side-by-side comparison of the Murano & Sorento »
In today's market, they're both car-based crossovers -- but which is the stronger choice?
What the Murano Gets Right
The Nissan Murano received a recent redesign that helps it compete in an increasingly competitive market. Buyers can choose an interior finished in an airy shade of tan or a more sinister black. Using Nissan's proven 3.5-liter V6, the current Murano puts down 260 horsepower to the front or all four wheels through a continuously variable transmission. Fuel efficiency is average, with both the front- and all-wheel drives returning 24 mpg combined.
What the Sorento Gets Right
In 2016, Kia completely redesigned the Sorento and gave it some new powertrains to play with. Standard under the hood of the Sorento is an underwhelming 185-horsepower four-cylinder engine, but its optional 290-horsepower V6 can easily compete with the Murano. Fuel economy checks in at 24 mpg combined with front-wheel drive and the four-cylinder; the V6 is less impressive at 21 mpg combined.
The Sorento wins the war of interior roominess, as it has an available third row of seating and significantly more cargo room. Speaking of hauling, the Sorento far out-tows the Murano with its 5,000-pound maximum.
Which is the Stronger Choice?
With the options of a four-cylinder engine and third-row seating, the Sorento offers a more modern CUV package. The Kia is also cheaper by thousands while providing more power, marginally better fuel economy, a tighter turning circle, a more flexible interior, and extra space.
Our Verdict: Kia Sorento
The Sorento may not have all the small luxury touches -- will you really miss an illuminated glove box? -- but still wins out for practicality and value.
Take a closer look at the Nissan Murano »